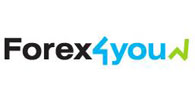 Forex4you – an international brand
Forex4you – is a company which specializes on Europe and Asia markets. This relatively new company was founded in 2007. The perfect prove of the development of this company is its annual turnover. In 2007 it did not exceeded 0.5 billion USD, and the turnover for 2011 reached 100 billion USD. In several years the annual turnover has increased for more than 200 times. This is a convincing demonstration of Forex4you development.
Forex4you can surprise even professional traders
Forex4you attracts attention by its convenient professional approach. Wide variety of instruments, good trading conditions, popular trading platform - these conditions are standard and foolproof and their availability simply reflects the responsibility and conscientiousness of the company. However, there are some aspects that might amaze even professionals: 16 liquidity providers for professional accounts (7 for regular ones) with the best prices, liquidity aggregation, the NDD technology execution, direct interaction with Market Maker–banks and many other pleasant and useful surprises.
Forex4you suits perfectly any type of trade. The company offers a wide range of accounts: starting from demo-accounts, to PAMM investment accounts. You can try independent trading or to choose an investor path. The choice is yours.
Information about licensing, mission and features of the company. About the policy and the supported standards, responsibility to customers, guarantees and warranties.
Contract specifications, types of accounts, trading platforms and conditions. Information on the access to the market and execution of orders, responsibilities and commitments of the dealing center and the trader.
Information about ongoing contests, bonuses provided and promotions conducted by the dealing center. Prize funds, rules and obligations of the broker and the participants.
Trading platforms, registration of the personal account. Methods to top-up and withdraw funds. Risk warning and information about terms of work, responsibilities of the dealing center and the trader.
Social button for Joomla