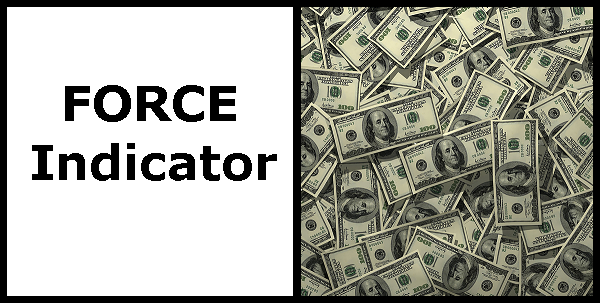 Using technical indicators is quite common in the foreign exchange (Forex) market. Often it takes a lot of time and effort to find the appropriate indicator. Today we will review a popular indicator named Force, which shows the strength of the current market trend. On the chart, the indicator is a curve that crosses a zero mark, thus pointing to the uptrend or downtrend development. This indicator became popular thanks to its inventor, Alexander Elder.
In fact, the Force indicator is an oscillator. Its basic components are the volume, price fluctuations, and currency pair movement direction in the market. Alexander Elder developed two ways of using this indicator: for short-term and medium-term deals.
Let's start with the short-term use case.
The Force indicator for short-term trading can be used to both open and close positions. The period in the indicator settings should be set equal to two. We first need to analyze the daily chart. Look at the closing price of the day: if the daily bar closed above the previous bar, the market is bullish, and vice versa – if the price closed below the closing price of the previous bar, the market is bearish. Of course, such signals constantly interchange, so it is important to determine the general direction of the market – the current trend, and open positions that follow it. The point of the short-term strategy using two-period Force indicator can be briefly described as follows: if the market is in a growth phase (bullish trend), and the Force indicator crossed the zero mark downwards, you need to open the order to buy. In the case of a downward trend, and if the indicator rises above zero, it is recommended to sell the currency pair. Indicator actions and signals are shown below.
Now let's review the medium-term indicator case.
First of all, you need to set the indicator period equal to thirteen. Using this option will allow the trader to see the current phase of the market – ascending or descending. How? It's simple – the indicator value above zero indicates the bullish trend, below zero – the bearish trend. There can be the third option – a flat. In other words, if the indicator value constantly crosses the midline or is close to zero, the market sees a sideways trend. In addition, when using the medium-term Force indicator, you can notice divergence signals.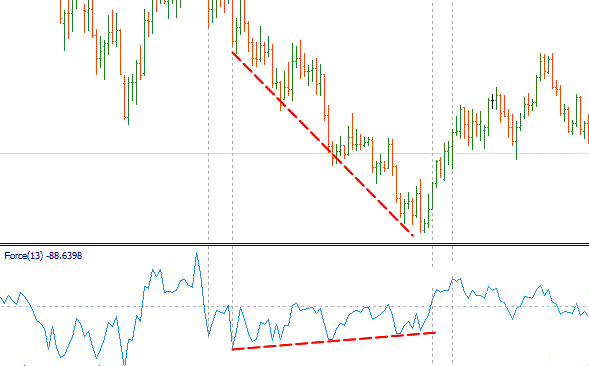 The Force indicator is a fairly universal tool that allows traders to better understand the market situation. It should be noted that the indicator should be used on the daily charts, though based on its data, you can search for entry points within the day as well. The indicator will be useful for both Forex professionals and beginners.
Social button for Joomla