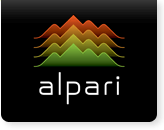 Alpari – the leading global broker
Alpari was founded in 1998. Although not many dealing centers have such a long history, this fact is not the only advantage of this company. Among the latest achievements of Alpari the third rank among forex-brokers worldwide for its trading volume can be named. The great popularity among costumers cannot be an accident, taking into account the competitive market. Indeed, one should just look at the development of the company to understand that Alpari is the Forex broker that deserves a trader's trust which is the highest appraisal for the company.
One of the best conditions for trade
So what does Alpari offer? Everything that you might need! 5 trading platforms, a wide range of trading tools, trainings, analysis, the PAMM systems for investors, affiliate program, many contests and special offers for beginners and experienced traders.
Alpari website can not only help new traders, but it also provides clients with an active and interesting forum which can become a great place for communication and relaxation not only for those who are interested in forex, but also for the trainers and professional traders.
What can you find on the website? The access to analysis: news, Alpari audio analysis, the leading global analysts' commentaries, various professional instruments of technical analysis, graphic analysis and the the Alpari expert analysis. Only a few companies may offer such a high-quality service, and Alpari is certainly among them. The company is among the best companies for getting to know what is Forex trading.
Information about licensing, mission and features of the company. About the policy and the supported standards, responsibility to customers, guarantees and warranties.
Contract specifications, types of accounts, trading platforms and conditions. Information on the access to the market and execution of orders, responsibilities and commitments of the dealing center and the trader.
Information about ongoing contests, bonuses provided and promotions conducted by the dealing center. Prize funds, rules and obligations of the broker and the participants.
Trading platforms, registration of the personal account. Methods to top-up and withdraw funds. Risk warning and information about terms of work, responsibilities of the dealing center and the trader.
Social button for Joomla