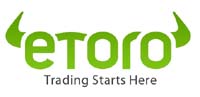 eToro – social trading network
eToro is not just another broker that provides access to FOREX market. It is a full-fledged social network, the world's largest community of financial trading. The value of any social network is in ability to communicate and obtain information from the community. eToro network has both in excess. Taking advantage of the company's offer, its member gets access to the expertise of the leading traders, the ability to track the deals of any network member and to trade profitably using their experience.
It also offers a real opportunity to communicate by receiving comments and information from the professionals about the situation in the markets, prospects and opportunities. There are over two million seven hundred and fifty thousand people in the network. Among them, there are many successful traders and experts in financial activities. In fact, social network is an opportunity to create your own team of analysts by selecting the best of the best and focusing on their deals.
eToro – pioneering works for unique project
eToro is a unique project, which was implemented literally from the scratch. Possibilities of the conventional trading platforms don't meet the requirements of the project, so the new ones had to be developed. eToro's main platform, OpenBook, not just allows to make deals, but also provides a link to the community.
The program allows you to copy the deals of the selected traders and to carry out the selection of traders on a wide range of parameters. Aside from the unique services, it offers all advantages of the modern broker: low spreads, quick financial transactions, free training. You can either copy deals of other members or become one of the leaders in the network, which will allow you to receive additional income by charging commission from the members that copy your deals.
Information about licensing, mission and features of the company. About the policy and the supported standards, responsibility to customers, guarantees and warranties.
Contract specifications, types of accounts, trading platforms and conditions. Information on the access to the market and execution of orders, responsibilities and commitments of the dealing center and the trader.
Information about ongoing contests, bonuses provided and promotions conducted by the dealing center. Prize funds, rules and obligations of the broker and the participants.
Trading platforms, registration of the personal account. Methods to top-up and withdraw funds. Risk warning and information about terms of work, responsibilities of the dealing center and the trader.
Social button for Joomla