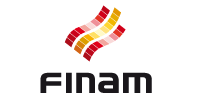 Finam Forex: a serious bid for leadership
Finam Forex is a division of Finam company, which provides brokerage services. In general, investment holding Finam consists of a Russian broker CJSC "Finam", their international counterparts WhoTrades Ltd. (EU) and WhoTrades Inc. (USA), "Finam" bank, management company "Finam Management", investment fund FINAM GLOBAL and "Finam" training center.
FinamFX can offer almost everything its competitors have, but almost always more efficiently. You can just start trading, become a member of the company's mutual fund, get the service of following the traders, and access to the bonds. It makes no sense to list of awards of the company, as they are too many. For more than 20 years of successful operation, the company has repeatedly demonstrated its reliability, success and severity, being one of the leaders in the financial industry as a whole at the moment.
FinamFX: successful with customers
Having carefully considered all the proposals of Finam Forex, you can find everything you need, from conservative investment to active scalping of the market: the company offers the operating opportunity for any investor or manager. You may both be trading on your own and benefit from the experience of the company's consultants and employees to diversify or create a portfolio.
Independent trading is possible on several most popular trading terminals. For normal operation, 53 currency pairs and 30 CFD are available, which is more than enough for operation. If you select a single account and Transaq platform, you get access to MICEX, FORTS, etc. Reasonable leverage, low commissions and spreads, and literally everything you need for successful trading. FinamFX offers you to stop searching and start on the path to success with them.
Information about licensing, mission and features of the company. About the policy and the supported standards, responsibility to customers, guarantees and warranties.
Contract specifications, types of accounts, trading platforms and conditions. Information on the access to the market and execution of orders, responsibilities and commitments of the dealing center and the trader.
Information about ongoing contests, bonuses provided and promotions conducted by the dealing center. Prize funds, rules and obligations of the broker and the participants.
Trading platforms, registration of the personal account. Methods to top-up and withdraw funds. Risk warning and information about terms of work, responsibilities of the dealing center and the trader.
Social button for Joomla