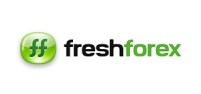 FreshForex - the simple start
In 2011 the company FreshForex was ranked seven in terms of the number of active clients among Russian brokers. This result was achieved in 7 years of operation of the company. The company policy, which focuses primarily on the provision of the high-quality services and excellent facilities for traders, allows it to attract many new customers.
First of all, FreshForex offers excellent working conditions: tight spreads, high-speed order execution, any amount of the deposit, the installation of pending orders at any level.
Second of all, FreshForex offers the high level of service and easy withdrawal and replenishment of money: customer support is available 24 hours a day; a personal manager, who gets a handle on the situation as well as fast processing of applications for withdrawal, which takes 10 minutes in average. In addition the company provides clients with almost any way for topping up the account and the profit taking that is all of the most popular payment systems and plastic cards. There is no commission for topping up.
The FreshForex Feature - shop of advisers
It is not easy to achieve significant results in the brokerage market. The market is saturated with supply; there are always new dealing centers and the market situation forces companies to constantly work on the quality of their services and to make unique proposals. One of these unique FreshForex offers is a shop of advisers. You can purchase advisers, but there are a number of free offers as well. Maybe this unique instrument will become a key instrument for achieving of success.
Moreover, FreshForex has some more distinctive features that distinguish it from the competition: open main indicators statistics and daily forecasts for basic currency pairs that can be a good instrument not only for beginners who are learning, but for the experienced market participants as well.
Information about licensing, mission and features of the company. About the policy and the supported standards, responsibility to customers, guarantees and warranties.
Contract specifications, types of accounts, trading platforms and conditions. Information on the access to the market and execution of orders, responsibilities and commitments of the dealing center and the trader.
Information about ongoing contests, bonuses provided and promotions conducted by the dealing center. Prize funds, rules and obligations of the broker and the participants.
Trading platforms, registration of the personal account. Methods to top-up and withdraw funds. Risk warning and information about terms of work, responsibilities of the dealing center and the trader.
Social button for Joomla