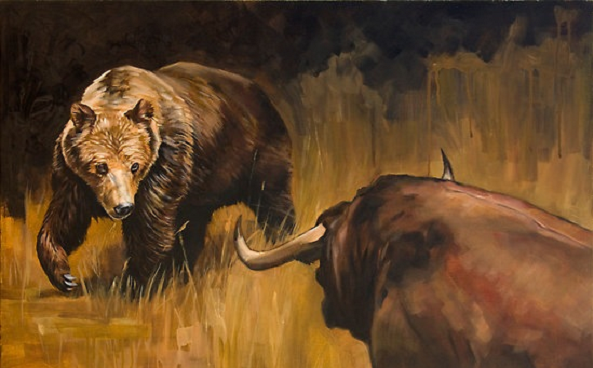 Bidding took place on Thursday in anticipation of economic data on U.S. GDP and unemployment in Germany. The U.S. dollar continued to build positions and steadily rising against most currencies. Support for the U.S. currency was better than expected GDP data, weak unemployment figures in Germany also played into the hands of the dollar. Euro, of course, reacted badly and has demonstrated a strong daily decline, other currencies also fell against the dollar, but to a much lesser extent.
The EUR/USD fell on Thursday, more than 100 points, breaking through resistance at 1.33 . Against the backdrop of negative economic data from Germany and the United States of positive euro reached a value of 1.3210 at the moment EUR/USD has recovered slightly and is trading at 1.3250 . We expect a further decline of the pair EUR/USD, but do not forget that today is Friday, this day, many market participants are taking profits and liquidate their positions ahead of the weekend, easing the pressure on the euro may cause an increase in prices to the level of 1.33, support for the pair is on level of 1.32 .
Interesting opinion on the longer term EUR/USD currency strategists have BBVA. They are also expected to resume falling.
Do bulls have reason for concern. Speculative accounts recently gained a significant amount of long positions, which are now liquidated, and given the current technical picture, the risks are now biased in favor of reduction to 50, 100 and 200 - day moving average at 1.3130/90 dollars, a break below which would signal the resumption of the downtrend. In BBVA also draw attention to the fact that the increase in tension in the situation with Syria is supporting the dollar, and the proximity of the upcoming (three weeks) elections in Germany may have a negative impact on the euro. In addition, the meeting will be held on September 18 FOMC, which could be announced early folding QE.
The British pound continues to mark near the 1.55 support, the Australian dollar is still holding below 0.90 . Our recommendations on these pairs are the same. The pair GBP/USD sell at break of 1.55, AUD/USD also sell below 0.90 to 0.8850 .
Social button for Joomla