While everybody was guessing if EURUD pair will be able to return to its previous trading range of 1.2320 – 1.2660, the euro suddenly dropped to the minimal value this year- the closing price on Friday 1.2155.
Certainly the EURUD pair dropped for a reason. And the reason was significant- negative news. As we have stated many times, the markets and especially the euro currency market reacts very actively to any negative news. And on Friday there were 2 reports. The first one: growth retardation of Germany, the country which is the engine of Europe. The second one: unsuccessful allocation of 10-year state obligations of Spain, which weren't popular among investors even at 7% (the maximum value of obligations profitability lately).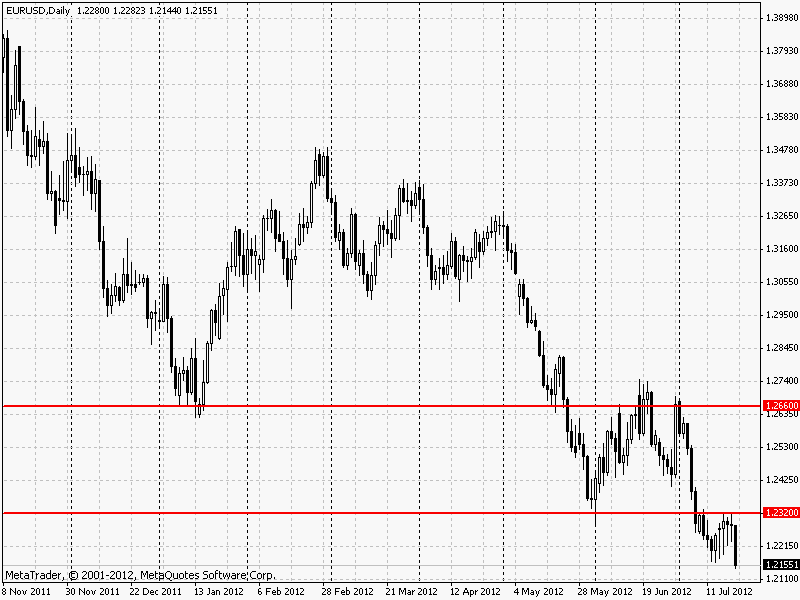 The news triggered the euro decrease, breaking down the consolidation of many days. The serious impulse means that there is no need "to bull" on euro market. Thus technically it was practically a perfect rebound from resistance level, which for three days in a row (17, 18 and 19 of July) resisted the pressure of bulls that led to three doji candlestick formations, which indicate a silent market struggle that took place during those days.
It is pretty logical that many were selling euro to dollar on Friday. And those who couldn't sell EURUSD pair on time, can do so on market opening on Monday. Since market sentiment will not change over the weekend, the euro will keep decreasing slowly. So how low will it go? The first support is on 1.19, which is pretty close to present values of currency. That is why this level will be the aim of current decrease. And on a support level a battle between bulls and bears will take place again, and it will determine alignment of forces.
Social button for Joomla