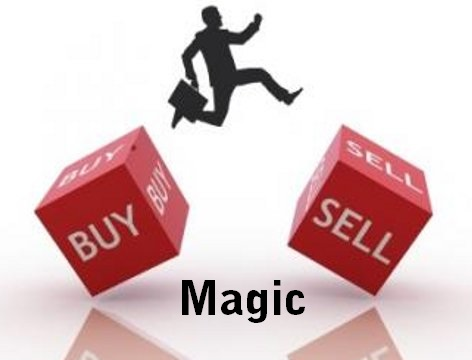 Buy Sell Magic indicator consists of three indicators in one that work integrally. Metatrader 4 is a standard platform to work with a EA/indicator. This unique indicator also features a special application that sends a signal to trade on your email – this allows you not to sit at the computer all day long. These are the currency recommended by the developers: EUR/USD, GBP/USD, AUD/USD, NZD/USD, USD/CHF, USD/CAD, USD/JPY, and it is not advisable to trade on other instruments. The Buy Sell Magic EA works on time intervals from H1 to D1.
Installation of the indicator
Extract the downloaded WinRAR file, then go to the folder "Buy Sell Magic indicator" and copy two folders "Experts" and "Templates" to your Metatrader 4 platform folder, agree to replace files.

Go to the MT 4 trading terminal, choose Tools – Options. Choose the Expert Advisors bookmark and tick the options as shown in the picture:

Then open the chart of any currency pair – on the hour timeframe, for instance.

Next, click on the chart with a right mouse button and choose Template -> Buy Sell Magic
List of Buy Sell Magic indicator settings:
Order magic: personal number.
Take profit: take level is set on default, but you can change it;
Order lot: deal volume, normally set as 0.01, but can be changed;
Risk: rate of risk of each deal in percent;
Order t/p: take-profit in pips;
S/l auto: automatic setting of the protective order. If auto mode is off, stop-loss must be set manually;
Order stop loss: protective order in pips;
Slippage: maximum slippage. Slippage is a sharp leap through the protective or profit order. Slippage always occurs at very huge demand, i.e. during important news release;
Time 1: the first time period;
Time start= start time is 8:00am;
Time 1 end = ends at 5:00pm;
Time 2: the second time period;
Time 2 start = 3:00pm;
Time 2 end = 00:00;
Time 3: 3rd period;
Time 3 start = 00:00;
Time 3 end = 11:00am;
Signal period = 12: indicator settings;
Arrow Period = 2;
Bu/use: trailing stop mode, i.e. a constant movement of stop loss to a breakeven;
Trailing level: fixed profit level, after which a floating protective order automatically turns on.
Rules of entry
Always open orders after the candle closing.
Open market position with the order, after the red arrows and the Buy Sell Magic indicator signal appear.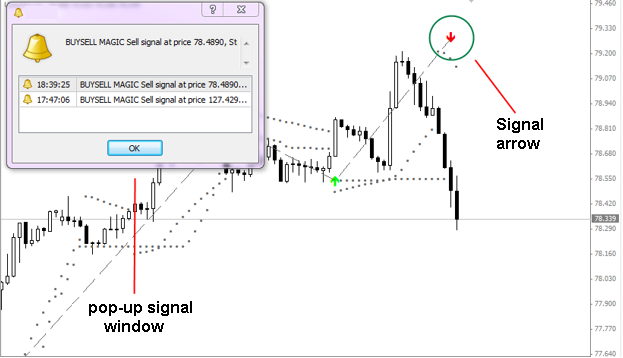 Stop loss
Protective order is set by the indicator under high/low system of the candles preceding the signal + N pips.

Take profit
Options are possible here:
Close the deal when a new signal or ...
Set a specific take-profit, for example, 30 - 40 pips.
Social button for Joomla