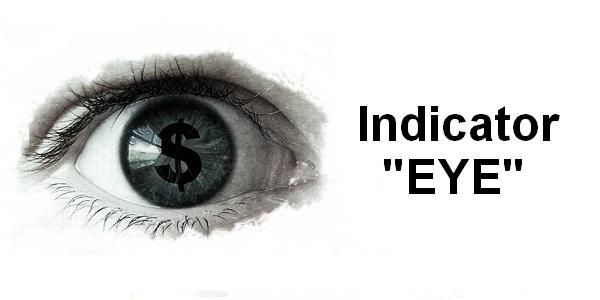 Forex Indicator "EYE" is also known as the all-seeing EYE of trends. It is an indicator of the wave type. The purpose of this is an indicator that it points to possible extrema or maximum/minimum points, thereby signaling a possible reversal. In addition, the data received by the indicator forex "EYE" data, many traders use in their strategies to build and install the moving average take-profit and stop-loss orders.
An indicator:
Recommended timeframe for indicator - from 15 minutes to 1 hour.
Time Left - the time remaining until the close of the current candle.
UPTrend, DownTrend in the lower right corner - it's the trend.
The blue and red lines show the daily level of support and resistance.
Dotted lines - support and resistance in the last days.
The yellow dots (EYES) - the proposed location of a trend reversal.
Blue dots sell signal.
Red dots buy signal.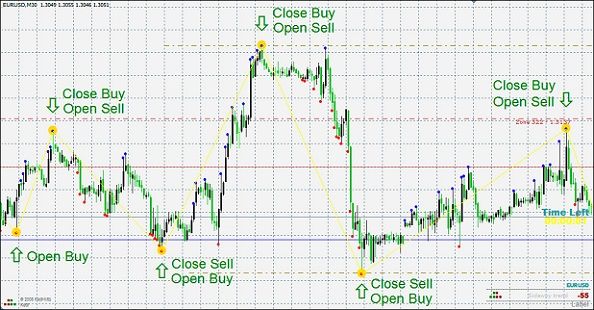 How to use:
In fact, the LED "EYE" is an improved and more intuitive version of the indicator ZigZag. The trader using the indicator "EYE" in the first place should pay attention to the direction of the trend - UP or DOWN. When UP trend are taken into account only the red dots (buy signal), the blue dots to be ignored. When DOWN trend, the situation is reversed, follow the blue dots, ignore red.
The second important point is the formation of the "EYES" or signal a reversal of the market. Traders should understand that the indicator is not 100% of the signals, since the formation of the new high/low "EYE" will be redrawn, so open a transaction solely on the basis of the indicator data is impossible. Confirming signals can be support/resistance levels, leading indicators on the similarity of the stochastic or RSI, they should be used to reduce risk and increase your chances of making a profit.
It is best used when the market is calm, without the express trend, so when the market moves within a wide range. In a strong trend, "EYE" can be redrawn, which will adversely affect trade. Use as a secondary indicator, the confirmation tone.
Social button for Joomla