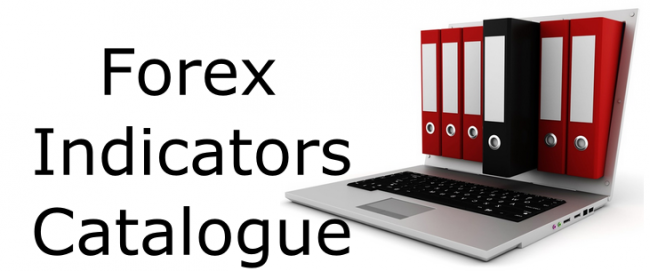 Many novice traders collect information on indicator systems into a coherent whole in fragments, then store it without any order as well, which results in a perpetual search for the working method, mess and no headway in sight. Most of them don't even notice this and do themselves no favor, so the catalogue of Forex indicators can streamline the search and storage of working algorithms.
Let's start with a search: there are various resources on the Internet today where you can download an indicator, but many of them are just a list of files with a two-line description. Such websites can only be used for downloading the code which name and contents are already known – for instance, from a random article or recommendation on the forum, which, by the way, is also a non-system work.
But such resources can't be called a Forex indicators catalogue, because an important characteristic of the catalogue is not the existence of the "product", but rather its detailed description which leaves no questions on its functions and purpose. One of the classic examples of the structure can be a section of our website called "Forex indicators", which you can find in the navigation menu.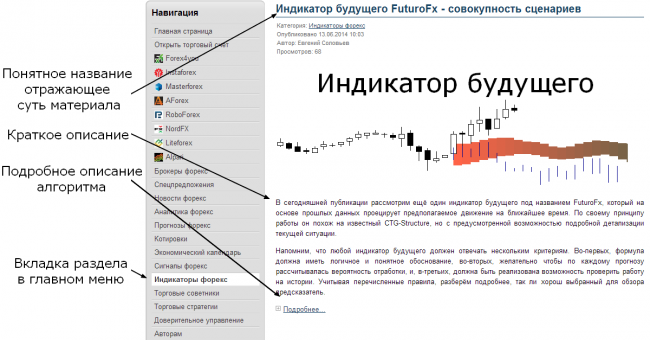 This section has information both on individual indicators and on general issues, which help understand how to work with them, search and install, because sometimes novices are searching for something that does not even exist in nature, and such moments are emphasized. In addition, similar algorithms are often grouped by specific article blocks, allowing to get acquainted with several options at once, rather than picking information bit by bit.
Forex indicators catalogue from brokers and other resources
Perhaps someone is not satisfied with catalogues that don't allow direct downloads – in this case, official websites of dealing centers and brokers can help. As a rule, almost every company creates a tutorial section for beginners with general issues and working methods. InstaForex, for instance, has a decent catalogue: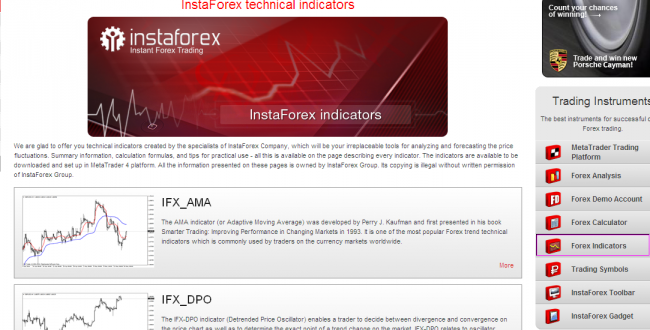 The inherent benefits of InstaForex resource include the following: first, the possibility to download the indicator, secondly, there are many interesting non-standard algorithms, thirdly, the information is structured. There are also disadvantages, in particular:
only highlights are described, no "pitfalls" or hidden features;

navigation doesn't allow to quickly find the section – if it's a first time of a beginner on the website, their attention is attracted  by the main menu, which also has a section with indicators, but that one describes only the standard package of MT4.
Forex indicators catalogue from Forex4you is only for reference purposes and is devoted exclusively to the standard MT indicators, which can't be downloaded – objectively, there's no need in this, because they are built into the terminal. Similar information is provided by RoboForex, with a small addition: there's a filter by names in alphabetical order, but it does not add utility.
Other dealing centers provide similar information or do not post it at all, which is logical. Therefore, if there is a need to study standard indicators, it is recommended not to go a roundabout way, but immediately go to the Forex indicators catalogue on the MQL Community resource.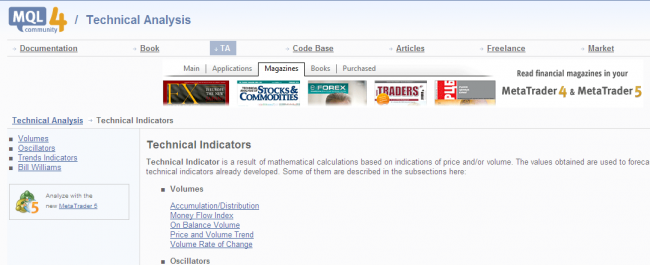 In this community, all indicators are grouped by their purpose – volume, trend, oscillators, and Bill Williams. For each of them, a detailed calculation formula is provided, and the explanation on how to interpret the signals. In addition, it is possible to download the source code. The latter feature is particularly useful for those who have decided to learn programming and want to deal with the most basic algorithms to write more complex code on their basis.
In addition, it is reasonable to create your own catalogues to store indicators found in the web – to do so, you can create at least two folders in the root directory of the terminal with names like "useful" and "useless". Such a classification will allow not to perform unnecessary actions, because after trying hundreds of the codes, you objectively forget which one was previously tested and which one wasn't. By the same principle, it is desirable to create special indicators folders, for example "oscillators", "regression calculation", etc.
Social button for Joomla