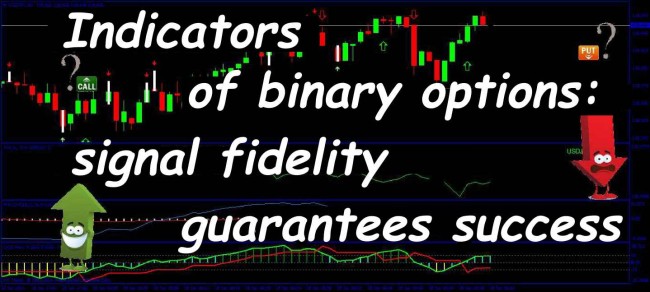 Working with binary options involves not only an excellent understanding of the market and analysis skills, but also the use of special technical tools. To avoid turning this specific trading into gambling, a trader needs binary options indicators that provide accurate signals for forward transactions.
Binary options are particularly affected by the "gambling" approach to trading. Most newcomers attracted by short-term transactions (from 30 seconds) and high profitability of the bids (70%) prefer to opt out of the use of any analytical tools. In this case, the transactions become an ordinary roulette game, and probability of success becomes minimal.
In fact, there are no indicators that were specially created for binary options. Even if the opening/closure of transactions is executed in the interface of special software provided by binary options broker, it receives quotes from the regular Forex price flow. Therefore, the analysis underlying a forecast of the possible movement of the market is carried out in the usual trading terminal using the traditional tools of technical analysis.
Important: binary options broker must provide the most comprehensive tick quotes flow, synchronized with the usual terminal, and allow to work on minute charts.
Mathematics of indicators
Binary options add the exact time of the event to the usual set of movement parameters of financial instruments (such as price and direction), which significantly increases the complexity of the forecast.
Important: Indicators must give an advancing signal to enter, to give the trader enough time to open a short-term deal if necessary.
If an ordinary market transaction can be open indefinitely until its successful completion, the chance to profit from binary options is much more dependent on the accuracy of setting the closing price parameters (price, time and direction). It is necessary to carry out the analysis of short time sections on history in order to find matching price combinations with a high probability of recurrence. Therefore, combinations of Forex instruments with different mechanisms of calculation (trend + oscillator) are used as indicators of binary options in order to get the most accurate signal with respect to time.
Important: the indicator should not visually redraw the graphics picture over time and change conditions and the entry point, at least for the period until the end of the current transaction.
Installing and configuring the indicators
When working with binary options, trading and analysis are traditionally performed in different windows: bids are placed in a trading window of the options broker, analysis is performed in the usual terminal – for example, MetaTrader 4(5). Installation, configuration and internal structure (in MQL4(5)) of indicators of binary options are similar to the indicators for usual trading.
Examples of application of the most popular indicators in trading
Set (Awesome Oscillator + Accelerator Oscillator + Parabolic SAR)
These standard indicators work well in conjunction on instruments with stable high volatility. Fine-tuning of internal parameters for a specific pair is obligatory. Option is bought at a closing of the signal candle on which all three indicators show the signal to enter.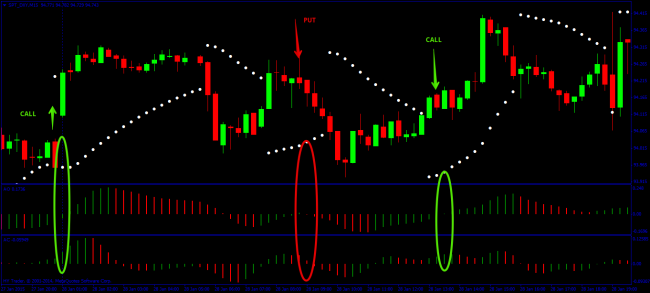 QQENew indicator
Excellent Forex indicator for quantitative and qualitative assessment of price, based on the smoothed RSI readings from a standard set. It has additional pointing signal arrows on the price chart: CALL (green) and PUT (red). The mechanism of signal formation is seen on the histogram. Sound alarms are given on mutual crossing of signal lines and the intersection with the zero line. It is desirable to apply it with additional trend filters.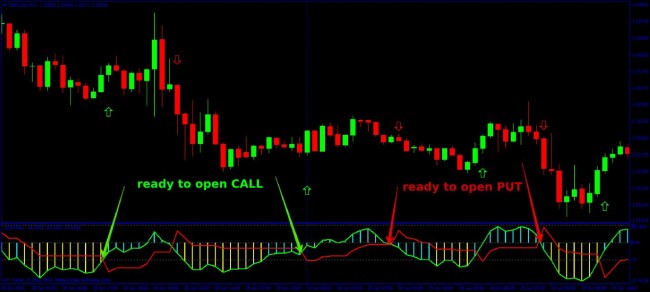 Indicator of binary options MACD + RSI
It is considered to be one of the most reliable indicators for scalping (i.e. perfect for options), because it very accurately shows the divergence of the current price. It shows reversals on small periods (M1 to M15) and low-volatile pairs well. Signal to enter is the intersection of the red and blue lines. Closing time of the option will be calculated on the basis of additional price strength levels.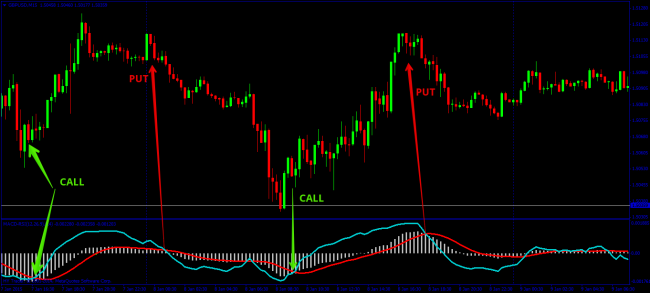 Exactentriesindicator
Another typical arrow indicator. It consistently paints arrows on any period, but not always successfully. Apparently, it is built upon the method of fractals. The signal can be taken from the period of at least M15, expiration period – from M30 and above.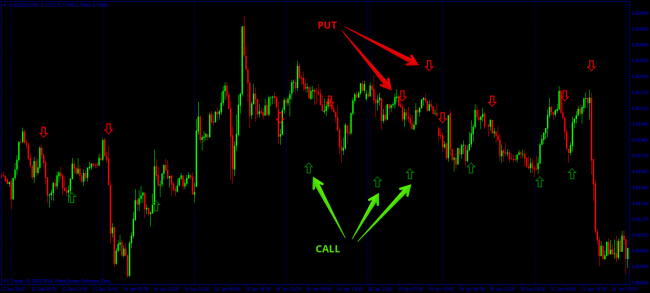 BuySell 2.0 indicator
Has good reputation on the common market. It gives excellent point for options on M30 and H1 charts, the closing time is from 1 hour. All the indicators of binary options of this type give a lot of noise on small periods. CALL signal is a blue arrow above the blue line. PUT signal is a red arrow below the red line.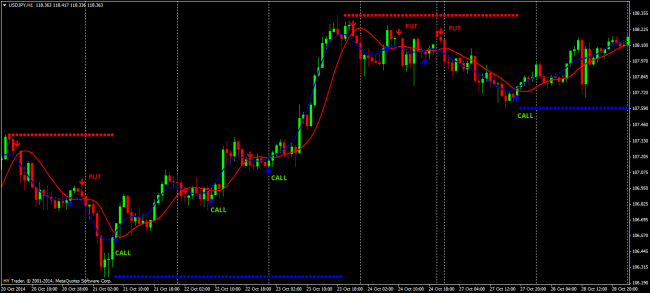 Forex mt4 binary indicator
Designed for any periods, but works more accurately on small ones. Any currency pairs and terms are available. PUT: red downward arrow, dot at the top (pink) on the main chart, signal in the lower window is red. CALL: green upward arrow, dot at the bottom (blue) on the main chart, signal in the lower window is blue.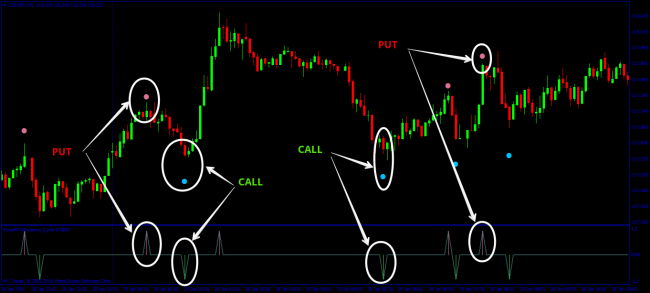 FGM indicator
Variations of moving averages adapted for options – though the mechanism of selection of parameters is not clear. But it works well on any medium-volatile pair and long-term options. Look for signals on M15, the term of the option is from 1 hour and longer.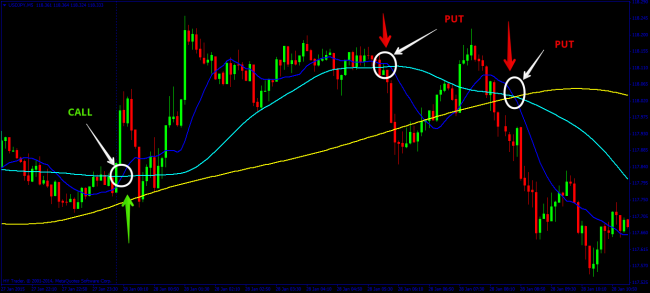 Binary Cash Comodo indicator
It is sometimes offered online for $647, but you can find it free
. Visually it is very simple. Testing gives especially good results for options on EUR, JPY, NZD and CHF in pairs with the dollar. Signals are advancing. No repainting was noted. Take signals on M5, set the option on M15. European session and the beginning of the American are most preferable.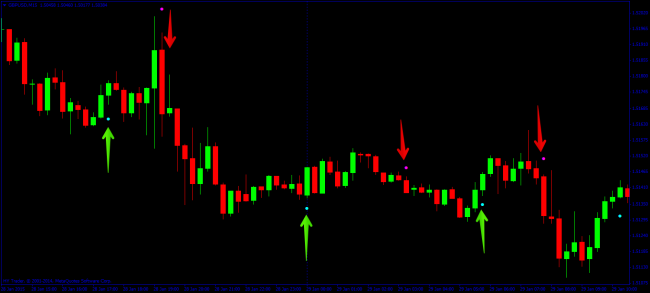 And as a conclusion...
Important: it is not recommended to work on options before and immediately after the news release. At this time, the indicators of binary options are enemies rather than friends.
First of all, you must understand that even trading options with a term of 30 seconds requires a complete analysis of the market. Otherwise, your broker will benefit from your losses, and even those 10-15% of the funds that he (perhaps!) will kindly return you after losing trades will not save your deposit. Especially because binary options represent a kind of price prophecy, as even if your prediction is technically correct but not fulfilled on time – you still lose.
All of the reviewed indicators of binary options can be found online for free and the degree of confidence in them is a little above average. Therefore, before using them on real money, you should thoroughly test them for a specific tool, expiration term, market conditions and the conditions of the options of a particular broker.
Social button for Joomla