The attention of investors at auction on Wednesday was focused on the speech of the FED to Congress. In recent days, the participants of the market was not easy to decide on the further prospects of the major currency pairs. The reason for this was some ambiguity in the statements of Ben Bernanke. A month earlier, the head of the FED, it would seem, has made it clear that the folding of the quantitative easing program will begin in the near future, almost in September. This caused a massive dollar purchases and avoiding risky assets around the world. But now the rhetoric of Ben Bernanke has become much softer. Abstracts of yesterday's report were also quite flexible.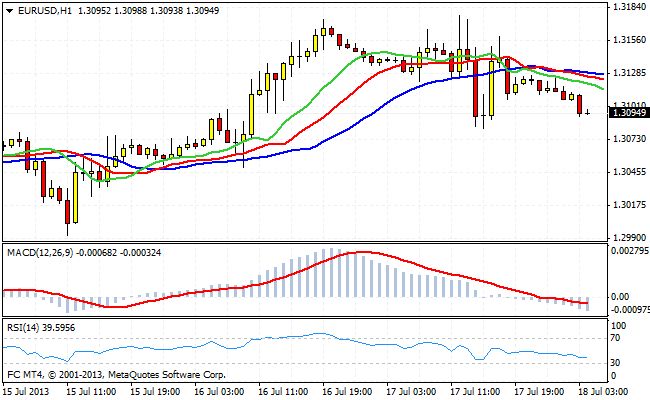 This time, the FED chairman said that the reduction and complete cessation of redemption of bonds does not mean that the next step will be inevitable tightening of monetary policy. On the contrary, it highlighted the fact that in the event of an economic slowdown QE program could be extended again. But the basic scenario remains the same. Until the end of the year, most likely, a program of quantitative easing will start to decline. But by the end of Q2 2014 the FED plans to complete the purchase of the assets. Nothing new, Bernanke said. This has led investors to re-look at the medium-term prospects for the U.S. dollar.
Thus, after market participants digested and interpreted the message of the head of the FED, the dollar strengthened slightly to all the major currencies. Current quotations EUR/USD in the district of 1.3095. This corresponds to the previous day's low. Apparently, a further short-term strengthening of European currencies can not count. An attempt to enter into a zone of 1.32 - 1.33 failed. And if the pair did not manage to consolidate at current levels, then you can try to open short positions with a stop at 1.32. Medium-and long-term prospects for the euro remains bearish.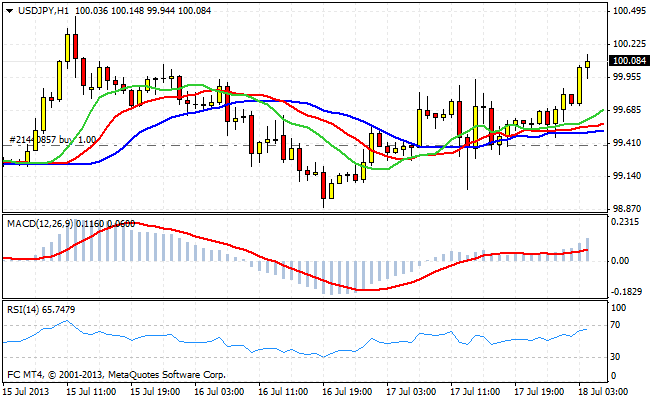 Speaking about the situation in the currency pair USD/JPY, it's worth noting the fact that the medium-term trend resisted, and the dollar again shows its strength. In the near future, I think, we will see the testing of earlier local maxima at 101.50, and possibly further upward movement. Players are medium-and short-term nature can be opened now long dollar positions by placing a protective stop - below the level of 98.70 .
Block of macroeconomic statistics, which will be published today, is to provide data on U.S. unemployment. Most likely, they will determine the further vector of short-term movements in the FOREX.
Good luck trading!
Social button for Joomla