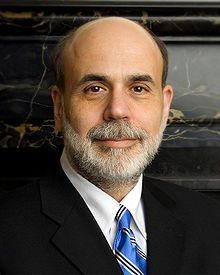 On Thursday the FED (the Federal Reserve) chairman Ben Bernanke reported on the economic advances the USA.
Just a day before Bernanke's colleague Mario Draghi commented favorably on the eurozone economic tendencies, consequently on Thursday markets were anticipating growth and positive changes. However, Bernanke was not so optimistic. He highlighted the positive tendencies on the american market, but his comments were conservative. Bernanke also spoke about sovereign risks in connection to the Europe and promised to tackle this problem efficiently, so FED is watching the situation in the eurozone carefully.

After such comments all investors were expecting Bernanke to offer support to the american economy by all means and announce readiness to consider the third round of quantitative easing. In spite of this no signals were received by the investors and the market growth ceased. As a result Bernanke supported current short-term rates, but he did not give a hope on long-term perspective support from FED.

It will cause closing of long positions on Friday and lead to the short-term correction of markets growth.
Until the latest news appear there will be sideways trends on the stock markets. The situation may be changed after the election in Greece or FOMC meeting.
Social button for Joomla