Beginning of the week in the currency markets is calm. In the absence of important macroeconomic data exchange drift up and down. In recent days there has been a strengthening of the single European currency and the pound against the dollar. Experts believe that this situation will change in the near future, as the fundamentals are now in favor of the dollar. Representatives of the European Central Bank said that the bank may continue to cut interest rates, given the current economic situation. The markets believe that the European regulator did not follow the example of the FED for a very long time. But ,nevertheless, the euro grows slowly due to technical reasons. Investors simply adjust long dollar positions due to a change in the rhetoric of Ben Bernanke for QE3 from aggressive to neutral.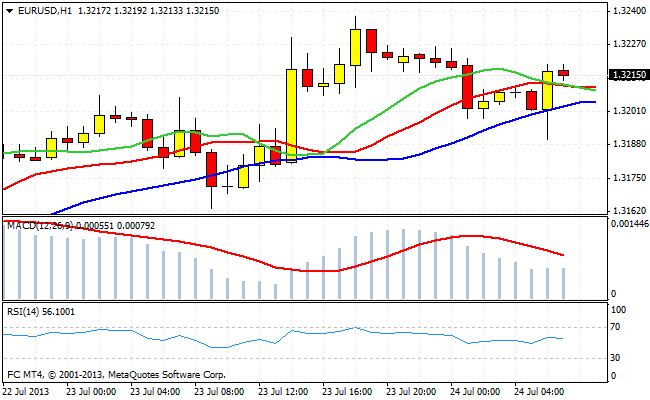 Quotes EUR/USD continued upward movement. This trend is likely to result in some acceleration. Weak short positions are closed. This can throw the euro at + 1.34. At this local maximum is closely monitor the dynamics and be ready to start the game for a fall. Most of the players at the moment do not understand the reasons for the strong demand for the European currency and have to take the passive position. Long term position is hold by pulling the protective stop the growth of a pair of quotes. Support in a pair - 1.3163, 1.3066 and 1.2990 .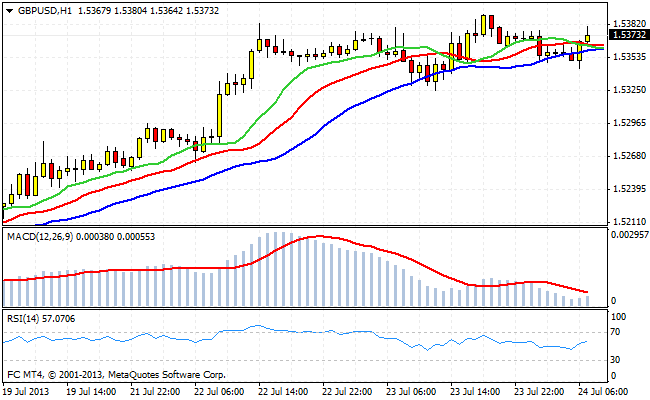 GBP/USD is consolidating near the 1.5380 mark. From a technical point of view, is high probability of the top of this consolidation. A relatively calm trading situation can be used to open a long speculative positions on the pound with similar protective stops. The passage down the local minimum at 1.5344 cancels short-term bullish momentum. Potential targets the top - it's 1.5480 and 1.5675. In the event that these levels will be reached in the near future, it would be advisable to take profits and turn over. Overall, GBP / USD is set to rise, because tomorrow will be the publication of data, and GDP for the second quarter and the expectations of market participants is quite positive.
Despite decreased over the recent volatility in FOREX, out of the ranges on the major currency pairs - this issue has already been a few days. The spring is compressed more. As a result, we see a powerful movement. Short euro and the pound could still win some figures, but the long-term picture is still in favor of the U.S. dollar.
Good luck trading!
Social button for Joomla