Previous day passed without any significant movements on stock market. After publishing final numbers on gdp from the USA, that were revised from 2.4% to 1.8%, American market of stocks demonstrated the growth on the whole spectrum of indexes. In financial circles all the discussions were concentrated around the subject of QE. The markets are worried about the rumors about a possible exit from the game of the current FRS chairman Ben Bernarke.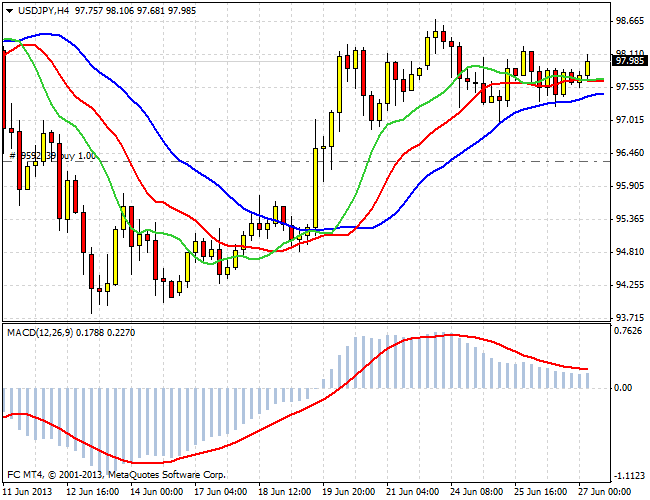 USD/JPY, after a rather weak start in Asian trading session, currently is making attempts of storm of previously set local maximum on 98.40. According to experts such activity is provoked by a strong growth of stock index Nikkei225, which virtually shot up at the end of trading session. Under these conditions opening of long positions on the pair is interesting, in relation to risk/profitability, speculative possibility. Protective stop-orders cab ne located lower than the support of 97.00, and the aim levels of profits – are the levels of 102,103.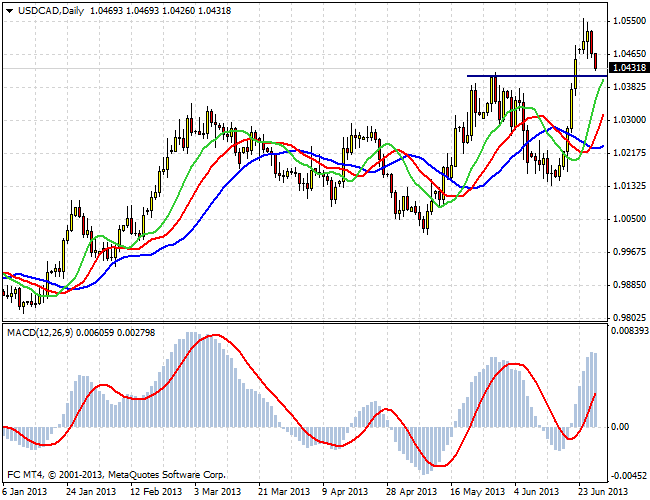 The situation in the currency pair of USD/CAD is a classic test of the resistance level passed. A serious resistance was May extremum of 1.04200. Now the market is trying to return to it and test it from above. If such traditional activity turns out to be successful, then the level of 1.0420 will become a potent support level. In case of rebound from this level and conservation on the current bull tendency, one may look for opportunities to open long positions and strengthening the current ones, by setting protective stops above the support level. The confirmation for development of bull scenario is breakdown of local maximum at the level of 1.0500.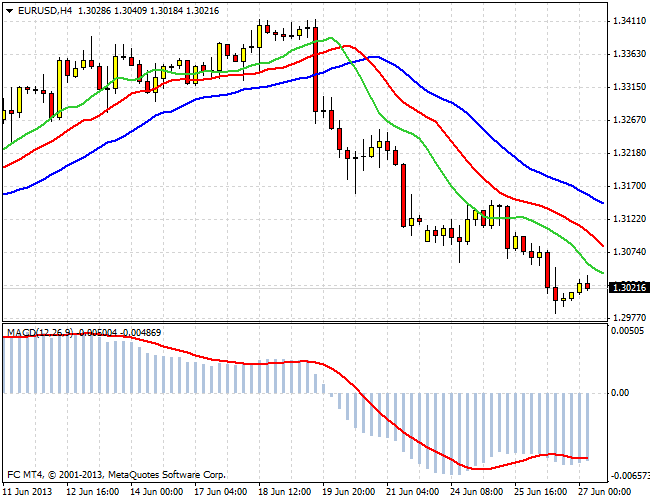 Trading of EUR/USD is not very active. But nevertheless, everything is occurring within medium-term descending trend. After reaching the local minimum 1.29850 pair slightly rolled away. According to dealers such a rollaway is caused by high demand for euro from European companies. And similar situation can continue for a while. So it is quite possible that during upcoming trading sessions we will see a slight strengthening of Euro against dollar. But current demand in this pair should not be considered as a bull signal. Most likely bear moods will take over market participants and we will see new minimums on euro.
We wish you a successful trade!
Social button for Joomla