The data published yesterday on real estate market and durable orders from the USA did not provoke growth of activeness of trades on Forex market, and the situation remained the same- investors expect new information which can move the quotations. Today the USA gdp data will be published. Market participants expect this data growth by 2,4% cv/cv. If there are no surprises, then investors will most likely continue buying dollar.
Gold and silver quotations experience serious pressure from sellers. Bear trend has been developing here from Autumn 2012 and now it is in the phase of acceleration. The most active sales of last weeks can be the consequence of overestimation of inflation risks by investors, and they are decreasing. Such assets as gold and silver have traditionally been tools of protection from inflation. And now when FRS is planning to close monetary stimulus, investors have to reconsider their models and stake on dollar.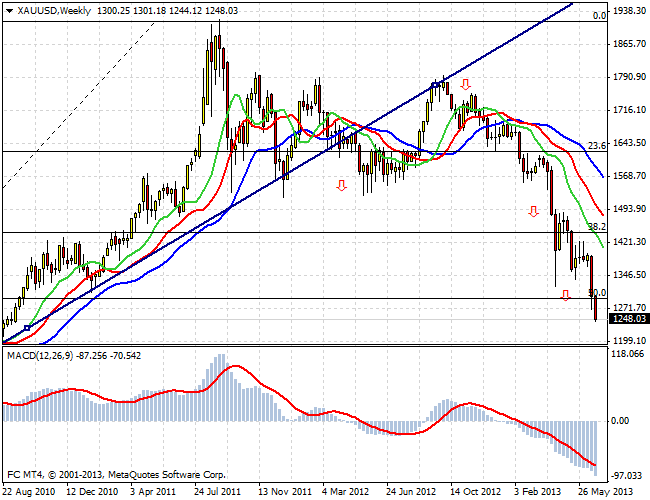 For one and a half years gold quotations have been in the diapason of 1520-1870 dollars for an ounce. But in March of 2013 bears had were able to break down the lower border at the level of 1520 and develop the descending impulse. Now it can be said with confidence that the long-term trend which began in 2008 is broken completely. Currently the quotations of gold passed the level of 50% rebound from the above described trend. He closest aim will be the level of 1160 - which corresponds to the deployment of 61,8% from a 4-yearl old bull trend.
Any ascending impulses in gold should be used to open short positions. Those investors who consider metal as a protective investment asset, should wait for the end of bear trend.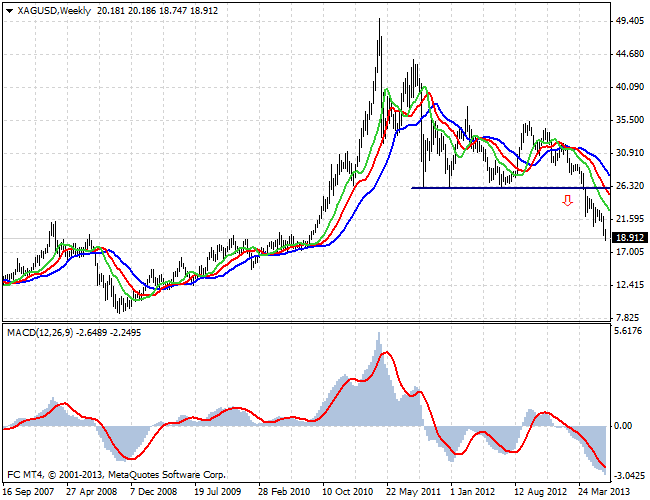 The same situation can be observed with silver. After a very volatile 2011, the metal has been trading within the diapason: 35-26 dollars. And in March of current year it did a breakdown of long-term level of support. Due to that fact the trade has been developing only according to bear scenario. Short positions should be kept only if the new ones had better be opened in the moment of correction, and the long medium-term ones and investment positions are what should be avoided.
We wish you a successful trade!
Social button for Joomla