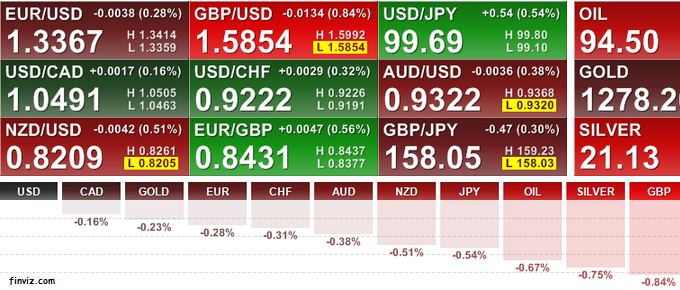 The first day of the week in the foreign exchange market was at low revs. Players will need some breathing space before continuing the game to improve the dollar. Despite this sharp plunge of the single European currency at the end of last week, adequate correction of this movement is still not there. This may indicate that the euro at current levels isn't interesting for the customers and a more or less solid demand is much lower. All this can provoke continued strengthening of the dollar. This week will not be particularly any significant news, so the major currency pairs can be at the mercy of speculators.
Richard Fisher, who served as governor of the Reserve Bank of Dallas, filed an application to financial market participants. It calls on the markets prepare to reduce incentives. Fischer noted that, despite a slight decline in the volume of quantitative easing, the FED's policy as a whole will continue to be soft enough for a long time. Thus, the purchase of bonds by the FED to continue, but they will not be as ambitious.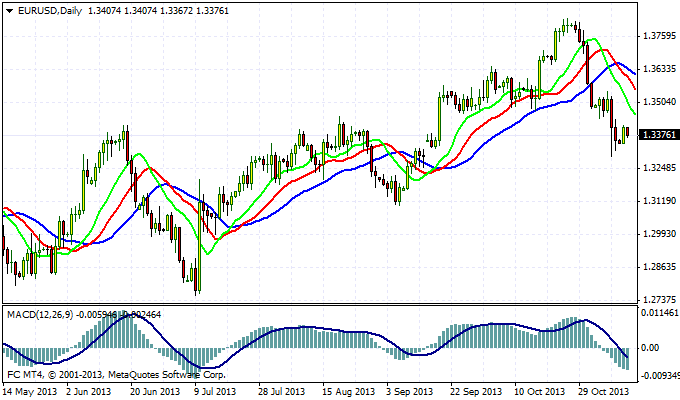 Currency waiting a number of major and reputable banks have shifted significantly towards improving the U.S. currency. But such optimism in relation to the dollar isn't shared by all. Currency strategists at Bank of New York Merrill Lynch believe that the FED surprised market participants and will continue to maintain the previous volume purchase for a long time. Thus, experts are predicting that the EUR/USD in the coming months will test the highs and autumn leaves in the area above 1.45 by the end of next year.
Quotes EUR/USD is currently located at 1.3380 . Trading activity is still low. Technically, the pair does not look very strong, but short-term growth is still possible. The objectives here are to address the levels of 1.3520 and 1.3600 . After that, probably, quotes euro will rush down. Short-term support - a level of 1.33 . The passage opens it down the road to reduce the zone of 1.2750 - 1.3000 . Exclude attempts to test the highs at 1.38 isn't worth it, but in the current environment, this scenario seems unlikely.
GBP/USD daily chart has formed on the classical figure - head and shoulders. At the moment, quotes pound punch line of the neck in this pattern. If the breakdown would be true, then the downward momentum is at least expect to achieve the level of 1.5660 . Cancellation bearish scenario will be the output cable quotes above the level of 1.6120 . Closing of the day is crucial. If the bulls by the pound will not be able to hold their positions, the next trading session, you will see a very dynamic reduction.
Good luck trading!
Social button for Joomla