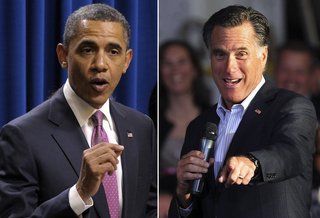 Despite the good impression from the news on unemployment rate (although it returned to 7.9 % a month earlier after 7.8 %, but there are more jobs created than it had been expected), the markets on Friday experienced a considerable fall, and dollar grew afterwards. EURUSD pair stopped at a support level of 1.2830, after a pretty good fall.
GBPUSD pair acted alike, falling down to the diapason of consolidation.
American stock markets fell considerably in their indexes, though European markets closed in the green zone, and the overall background is positive.
The reason that could have caused this movement- upcoming presidential election in the USA that will take place on Tuesday 06.11.2012. 
Why do the elections influence the quotations? Because the winner will have an impact on economic policy of the country. Many traders decided to leave their long positions, since there is uncertainty ahead and serious fluctuations of the market are possible. That is why little sales with missing demand lowered the quotations on Friday.
Drop in petroleum prices favored the sales.
Social button for Joomla