Today all the traders that were occupying short positions on risk instruments, found themselves in a very difficult situation in the middle of the day, since according to statements made by Mr. Dragi, the head of ECB on newly developed program on saving Eurozone and promises to save Euro at any price, the market was filled with optimism, that raised the quotations.
Thus the EURUSD pair raised abruptly, breaking the resistance of 1.2320, activating the stops of bears and orders of buying bulls. However, the disappointment that came to the market after refutation of the possibility to buy public bonds of Spain and Italy at ECB's price, that was uttered by Minister of Finance of Germany Wolfgang Schauble, led to long positions liquidation and the market descended. Thus on Thursday the EURUSD pair stopped on support level of 1.2160, though during the day it was lower.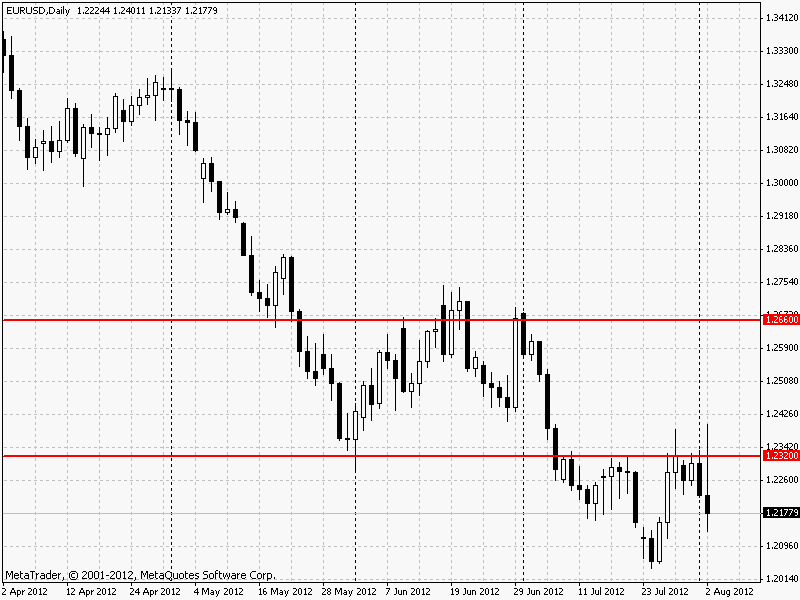 Such outcome of the events was anticipated, though neither Great Britain bank, nor CEB could change its monetary politics and the problems were left to its resources.
The sales are urgent at the moment and no matter how painful it is after losing short positions one may continue selling, since on Friday the EURUSD pair might descend to 1.2000 because of the lack of belief in effectiveness of macroeconomic politics of European Union. 
Aside from Euro this situation exists on other correlated markets (gold and other currency).
Social button for Joomla