As it was mentioned earlier, this week the destiny of gold quotations could be decided. They could either hang in timeless consolidation, or a trend could begin. We should see how this problem has been solved.
On Tuesday gold could overcome the level of resistance of 1677 and to leave the diapason, which brought hope to build for the beginning of trend. On Wednesday gold was trading with low volatility on this level, making attempts to break it down.
On Thursday the gold quotations were trading more actively in American session and attempt to break down 1677 for a troy ounce level were more successful than the previous ones. But the quotations could not consolidate during the day lower than this level, and the price for the precious metal again became higher than 1677.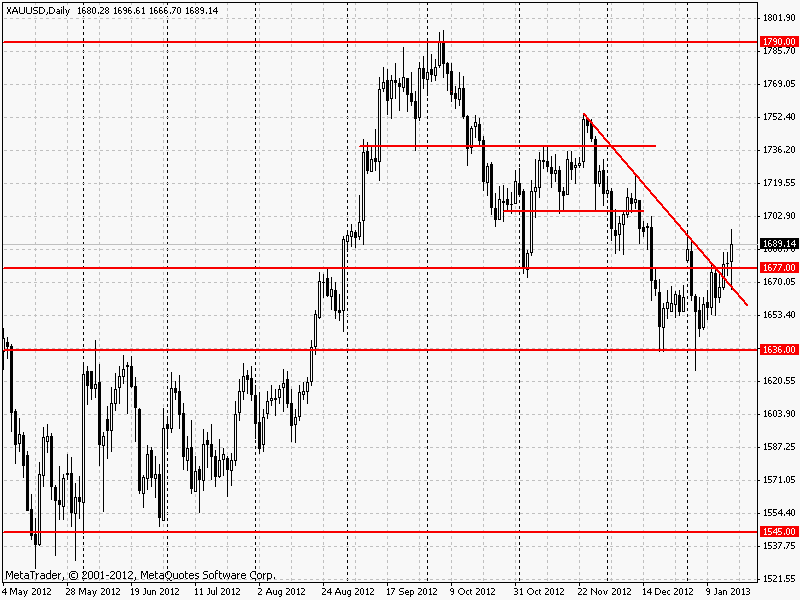 The growth was almost twice as big as the interday fall. (There are some suspicions that somebody decided to make it hard for customers by increasing quotations, in order to enter the market with more attractive prices). 
All of these factors indicate that gold left the diapason of 1636-1677, and now there is a signal of beginning of the ascending trend, the minimal aim of which is— 1750 dollars. However there is a possibility that the quotations will want to renew the maximum for 2012 and pass the mark of 1790.
If you still do not have a long position on gold, then probably on Friday you will have the last chance to see the quotations at such low marks for near future. 
Social button for Joomla