We stated on Sunday in our weekly review that gold might stop its movement down, since the level of support 1700 kept the balance after two failed attempts to break it down. On Monday we saw a good practically ceaseless growth of quotations of yellow precious metal. Thus there was a deployment candlestick signal on gold in the form of "reverse falling star" with candle- hammer on Friday.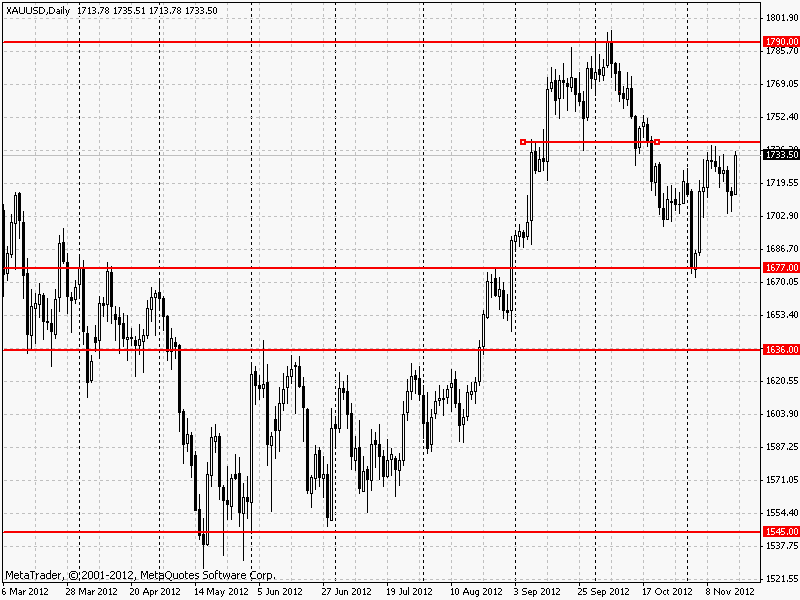 This is a good deployment signal and under other circumstances it would be necessary to start buying gold from the current levels, but there is one technical limitation to start buying. This limitation is in the proximity of the resistance level, which is on the level 1740, the level that stopped the growth earlier that month.
On Monday the quotations of Gold didn't reach this level of resistance, that is why on Tuesday an important factor of continuing the impulse will be breaking down this resistance level and securing the price higher than the level of resistance.
If the quotations of gold can't break down this level of resistance, it is necessary to occupy short positions on gold. Short positions should be open in case the quotations make fake breakdown, the price will not be fixed higher than the level 1740 dollars for troy ounce.
In any case tomorrow it is possible to enter the positions on gold.
Social button for Joomla