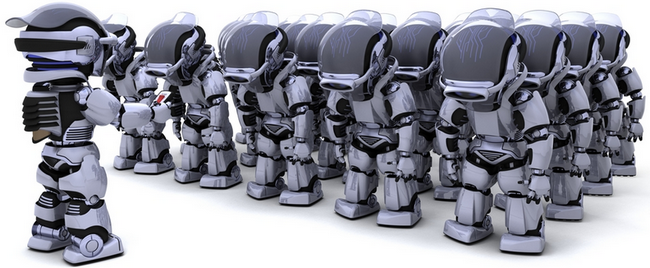 The fastest and easiest way to purchase a trading robot is to visit the Forex advisors store. Despite piracy and copyright infringement, the sale of algorithms still brings developers the highest and most stable profit if compared with other areas of activity connected with the market.
Of course, the beginners have the following question: how to choose the right Forex advisors store. In fact, these resources don't differ much from other online stores, but they are characterized by some specific features that should be considered. But first things first.
Requirements the Forex advisors store must meet
Let's start with the general requirements, without complying with which the resource is not recommended for further studying. First of all, stores with good reputation (or aspiring to it) don't use annoying advertising with lots of pop-ups and "redirects", because they gain a sufficient profit from sales of robots to abandon these marketing ploys.
Secondly, the interface must be simple with search capabilities by multiple filters, and a description of the advisor must contain detailed information: year of creation, pairs and timeframes it works with, short decision-making algorithm. In addition, each advisor must come with the file containing the user manual and test results.
If the Forex advisors store does not comply with the listed items, it is just a typical "fly-by-night", whose mission is to gain a quick profit from the recently created robots, mainly compromised. Some of them don't even hesitate to sell strange and non-working advisors found somewhere in the net under the popular brand names, while others went as far as to put music into the archive to make it look heavier and mislead the user.
Of course, nothing prevents them from creating fake tests and descriptions, so the third requirement is the most important one – the presence of demo versions or trial licenses for products, as well as technical support from the authors. Since any serious store works with developers, the converse is also true – if they refuse to provide support, the store price list should mention this fact next to the name of the robot.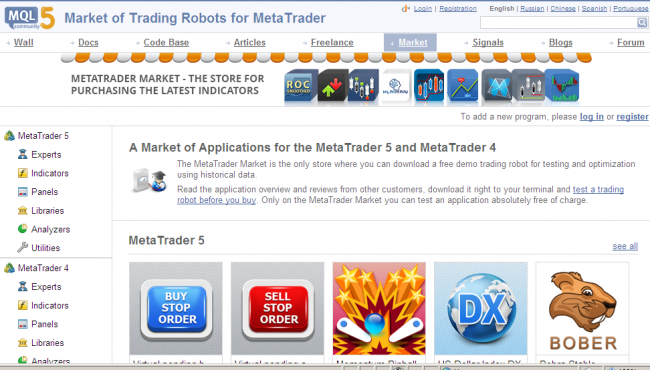 Forex advisors store can be organized in the form of the exchange. A classic example of this approach is the MetaTrader Market at MQL5 Community portal. The picture above shows an example of the main page. In this case, the robot installation is made directly via the terminal, and the third party is acting as a guarantor of the fulfillment of obligations by both the seller and the buyer.
In particular, the former is protected against break-ins and payment delays, and the latter is allowed to try the demo versions in the strategy tester. Such a method of interaction between the parties is the most productive and carries less risk compared to other options. In addition, you can communicate with the sellers right at the resource, and openness to dialogue is another important criterion for a responsible approach to work.
Social button for Joomla