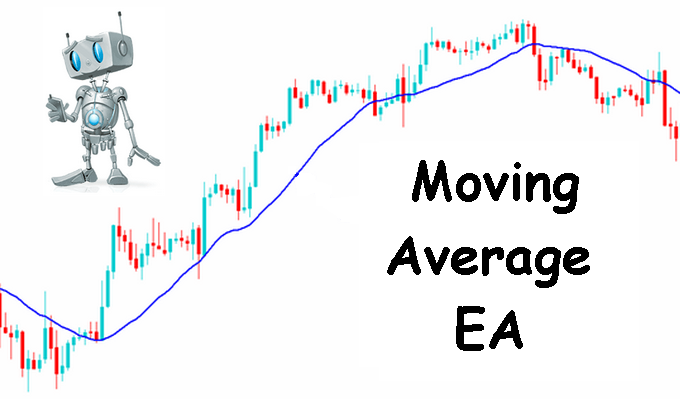 Moving Average EA is one of the simplest trading algorithms, which comes with the standard package of MT4 terminal advisors. This robot is well suited for beginners who are taking their first steps in using trading advisors. The EA works by a fairly simple principle. The system is based on just one moving average. The deals are made depending on the price of the financial instrument crossing the moving average.
Once they crossed, the Moving Average EA opens a deal to buy or to sell. Two trading options are allowed. The first is when the EA indicates the presence of a specific signal and the trader only needs to execute a request. The second is when the EA opens and closes positions on its own. The EA opens positions when the moving average crosses the bar (open/close). Thus, the buy occurs if the bar is crossed by the moving average below close and above open. The condition to open an order to sell is the bar crossing the average below open and above close. The Moving Average EA determines the size of the position by some algorithm as well.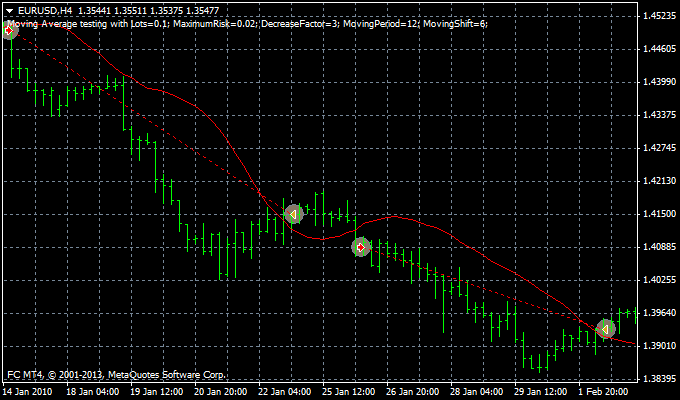 EA configuring and testing
The proper adjustment of the EA can significantly improve the final results. Before proceeding to the review of settings nuances, let's describe the installation aspects briefly. As it was mentioned earlier in this article, the Moving Average EA comes with the MT4 standard EA package. Therefore, there's usually no need to search for it and download from the web. To get started with this EA, just select it in the "Navigator" – "EA" and drag it on the chart of the selected tool. Beforehand, you should go to "Tools" – "Settings" – "EA" and put necessary ticks for the EA. The smile appearing in the upper right corner of the chart would indicate that all presets are made properly.

It is also worth noting that if the market is dominated by some trend – for example, rising, then you can only choose to open long positions in the basic options. Such an approach can ensure maximum return in a particular period. This is explained by the fact that during periods of no trend the Moving Average EA will give a lot of false signals. Of course, when you choose this style of work, you should keep your finger on the pulse of the process, as Forex trends tend to change very fast.

When testing this EA, it is recommended to set the minimum lot size. This is done in the "Lots" settings window. Another important parameter is "Maximum Risk", which is responsible for the risk magnitude for each deal. Typically, most traders use the value of 0.02, which corresponds to 2% risk of the account. "Decrease Factor" is a parameter governing the reduction of working volume of the deal after an unfavorable outcome. If the trader doesn't care about the effect of a soft landing much, this function can be disabled.
Social button for Joomla