The trade on Friday reminded a real battle for the positions. Publication of a range of negative fundamental data of Eurozone and more optimistic US news helped to consolidate dollars and in euro descent. As a result the day ended in dollar growth by 52 points, the volatility of tradings turned out to be 114 points.
Federal bureau of statistics of Germany showed a decrease in sales in April by 0.4 %. New data about the unemployment in Eurozone reached another maximum of 12.2 %, when in March it was 12.1 %.
The situation is developing as it was planned by analysts. Preliminary valuation of Eurozone inflation in annual basis is ¼ %. ECB determined the aim level up to 2 %, so there is still time to make several effective decisions.
The mood on US market is still positive. That can be seen on University of Michigan Consumer Sentiment Index, which grew to 84.5 in May, while in April it was just 76.4.
Analysis of technical situation: Now the currency pair is trading at the level of 1.3000, while it is making attempts to break down this resistance. Despite the fact that the trades are conducted in a positive mood, the bulls are the main players, the rate is still in low near 1.2837 and 1.2943.
 The main resistance today is fixed at the level of 1.3015, the breakdown of which will open the way to the goal of 1.3045 and 1.3071. Now the 30-day gliding line crossed with 50 day and is heading towards forming the short-term correction.
If bears are renewing their Friday intentions, we expect a lowering of the currency rate to 1.2983, further to 1.2943.
Analyzing the Bollinger Bands indicator data, one can notice how the trading stays in a lower channel near the level of 1.2989 – the main support.
Volume indicator– MACD overcame the negative value and is showing a development of the flat.
It is recommended to trade according to the following levels of support: 1.2984, 1.2943, 1.2912 and resistance: 1.3015, 1.3045, 1.3071.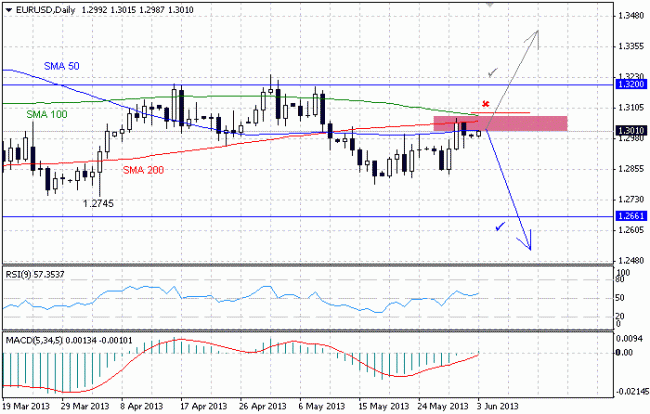 Social button for Joomla