The new trading week will be busy, traders can expect heavy traffic and increased volatility in the markets. The economic calendar is full of important news and economic data, which will undoubtedly be the determining factor in the movement of the market. At this point in the foreign exchange market, the U.S. dollar remains under pressure. This week is how to reverse the trend of the dollar to weaken and strengthen it. Market participants will take positions based on economic data, some of which is from the United States - a decision on the discount rate and the accompanying statement of the Committee on the Federal Open Market on the part of the Euro zone, similar information - press conference by ECB interest rate decision.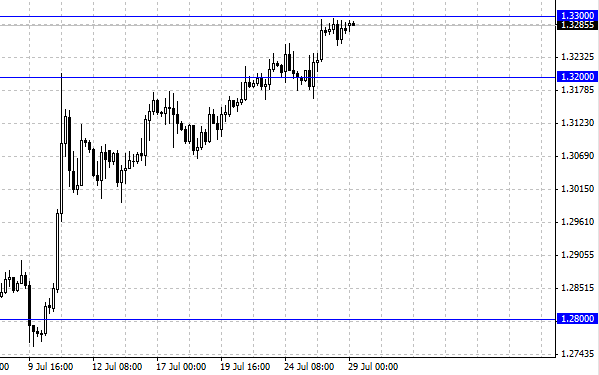 The EUR/USD is near the resistance level of 1.33, which is, of course, inhibits the growth of a couple. But can he stand in the near future? Because of the low activity at the beginning of the week we can assume that the decline in EUR/USD pair is more likely. Support for the euro is at Friday's low 1.3250 . On Monday there is no news from the euro area, the indirect impact may have data on the UK economy. With the opening of the European session, the dynamics of the pair will be more clear, and then we will open a short position.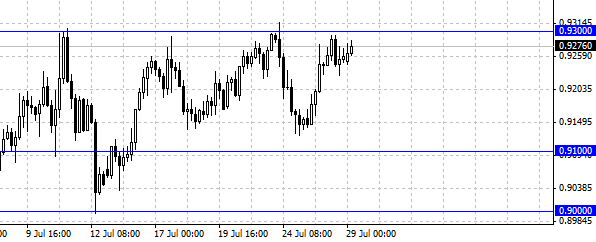 The Australian dollar also tends to be formed by the upper boundary of their range. The upper limit of 0.93 serves as a barrier to further strengthen it. Last week there was an attempt to gain a foothold above that mark, but it did not succeed. Therefore most likely that the AUD/USD pair reached the level of 0.93, will go on a decline. Immediate support is at 0.9250, the pair above the 0.93 level will open the way to a level of 0.95 . We believe that the pair AUD/USD will continue to be in a sideways view of the weakness of the Australian dollar, traders can use the strategy of trade within the same range or wait for the breakout of its borders.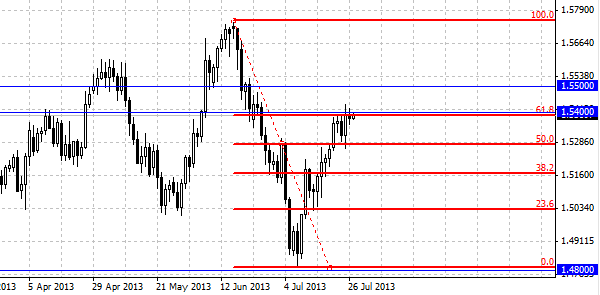 The British pound is under pressure, the pair with the minimum values is experiencing slowdown. Primarily this is due to the resistance at the level of 1.54, the second factor is fundamental - the weakness of the UK economy. If we apply the Fibonacci lines to the graph, then the last wave of the fall, the pair GBP/USD rebounded to 61.8 percent, from a technical point of view also inhibits further growth. We believe that the British pound will move to the level of 1.5280, after perhaps an even greater reduction. Resistance levels is the current level of 1.54 and 1.55 level.
Social button for Joomla