After breaking down the level of resistance of 1.2320 on Friday (which has turned into support), the EURUSD pair wasn't able to stay higher than this measure. On Tuesday and Wednesday there were low volatile trading days on EURUSD pair which led to two doji-candlestick formation, that embody inner struggle of bears and bulls on market.
Today the quotations have descended down to support level of 1.2320.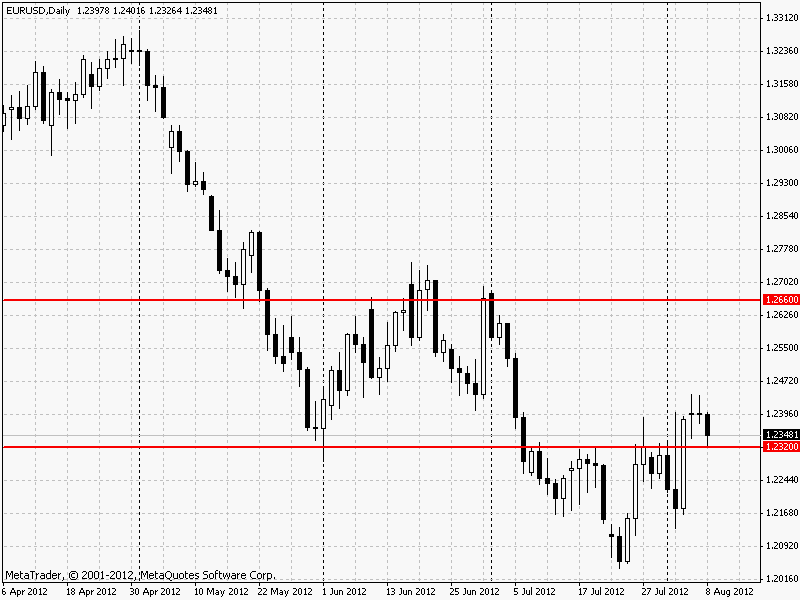 The bad news from Eurozone do not let Euro stabilize higher than the level of 1.2320. Thus yesterday the credit rating of Greece was lowered down to «ССС», the bank of Great Britain reviewed expected indicators towards decrease, the export of France is unprofitable and Germany refuses to enter single Eurobond, which would be under control of Eurozone.
This idea is supported by financiers due to theory that these papers will be supported by investors (remember the recent story with allocating German public bonds with negative profitability). According to experts this will help attract necessary means with low percent and will calm financial market in terms of European capital issues especially public sector. 
The idea itself is interesting, but Germans have an appropriate question: who needs allies that you must pay for and that yield losses to the union? The answer to this question is somewhere in the geopolitics.
When it comes to Euro, one should expect the breakdown of support level of 1.2320 within the next few days. This level will allow selling well with the aim of renewal of this year's minimum, which is on the level of 1,2050.
Social button for Joomla