During the trade on Thursday investors' attention was directed at American data which turned out to be better than predictions. It provided some support to dollar and EUR/USD pair again dropped to the level of 1.30, where it can now be observed a strong support is. European currency retreated from minimal value after checking the strength of level of 1.30 and began to from a new rebound. The closest aim is still the level of 1.3080. Today on Friday one should not forget about the fact that many medium-term traders and investors will begin fixing profits which can influence positively the EUR/USD pair.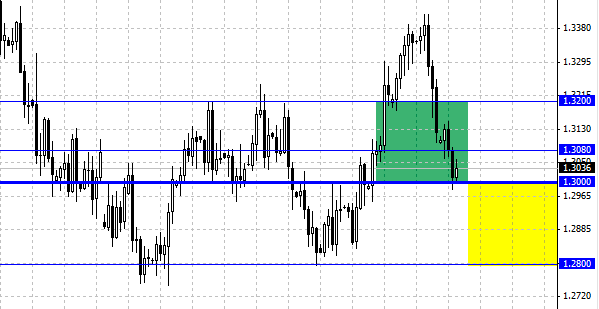 1.30 – border?
With the descending trend on EUR/USD pair slowing down, we still think that probably very soon we will see the movement between two diapasons. First of all, it is the channel of 1.32-30, and if the pair can break the support at the level of 1.30, then it can put itself in another cage, with the help of obstacles that will be represented by the diapason of 1.30-1.28. Now the level of 1.30 looks like a strong support for EUR/USD pair, and if it doesn't stand the pressure, then the traders can become witnesses of abrupt descent of European currency.
Another unpleasant surprise for traders was the fall of prices for euro, which during the session on Thursday dropped to the level of 1200 dollars for an ounce. All this negativity and danger which are connected with gold, can be tricky, that is why one should be very careful if trading with this tool. Just think: the asset lost in value about 40 % within 6 months. One should not hope for bright future for gold, everybody knows that nothing can grow for too long. Many serious investors lost significant amounts of moneyin this "safe" asset. We recommend you to look with a new perspective at gold future.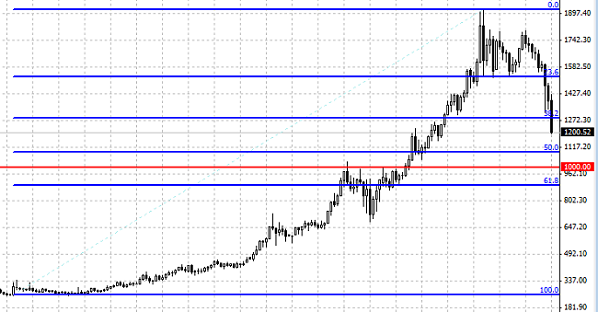 Correction or new age in history of gold?
The correct answer is not clear yet, however, analyzing gold with the help of Fibonacci one can see that the level of 38.2% is broken down and the price is heading towards the level of 50.0%, we assume that it is not very smart to make purchases right now, only if short-term ones near round levels, such as 1200, or 1100. We will most likely be able to see the price reaching the level of 50.0%, such price will be very attractive for long-term investment, and besides ordinary investors, with this price central banks will be happy to purchase gold. It is hard to say it but the real resistance, from technical point of view as well as from psychological point of view is at the level of 1000. On the way there is 50.0% level of Fibonacci, but the perspectives look very vague, the negativity caused by collapse of famous "refuge" only adds fuel to the fire. Be careful.
Social button for Joomla