EUR/USD currency pair as we assumed grew on Tuesday. The support formed at the level of 1.28 looks very strong and it is hard to imagine that it will be broken. It is especially noticeable in a long-term timeframes that this area is a restraining factor for the future lowering of the pair. That is why in order to break this level it is necessary that the quantity of traders who are selling short grow significantly which will allow calling forth the necessary pressure.
The 1.30 level is still the upper bound of the channel that had been formed, 200 points wide. Nevertheless such tendency should not last long, now this market for short-term traders is making the situation worse and the lack of certain information from Europe. The players forgot about Europe and concentrate on information coming from the US, but it is a question of time, any important information from Europe will give the market the necessary push which will move the EUR/USD pair from the diapason that was formed. We recommend you to pass from daily graphs to hourly for the possibility to earn on short-term deals within the diapason.
The risk is high that the market for EUR/USD pair entered the "summer" diapason that can be observed in a wider channel between the levels of 1.28-1.32, with the middle at a level of 1.30. By using this information one can divide the market into two blocks trading in a higher and lower parts. With summer months the liquidity starts to disappear and one should not expect more than a quick short-term trade. In summary the traders should follow the news, coming from Europe and the USA, we still assume that at the end the pair has a negative dynamics and checking the strength of 1.28 level is a question of time.
The gold prices closed on Thursday higher than a day earlier, but they stayed in the diapason of the last 5 days. The gold got some support against dollar, but the data from the USA was better than it was expected by the analysts. The inform published by the Ministry of Labor demonstrated that unemployment benefit applications decreased by 23 000 and became 340 000. The department of commerce published the sales of new houses which increased by 2.3 %, in other words it is 454 000 houses more against 444 000. Meanwhile the markets try to digest the words of the president of Federal Reserve System Ben Bernarke at the court on Wednesday. Dollar is influenced greatly by exchange markets and bond market. Yesterday USD/JPY pair and Nikkei index fell abruptly. Significant corrections on stock exchange of the USA and Japan could bring the attention of some of the investors back to gold. Traders should pay attention to resistance at a level of 1400-1411 and support between 1376-1363.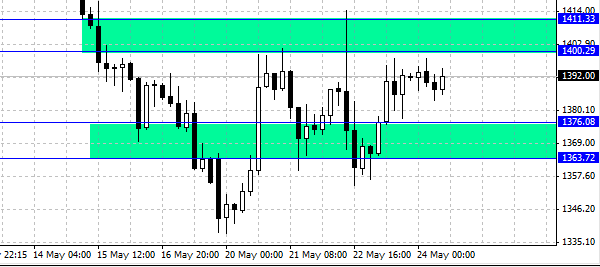 Social button for Joomla