This month gold market does not look very promising in terms of movement stability. The market certainly will react strongly to the news and will stay a hostage of Federal Reserve system statement as during the session on May 22. Mere mentioning the possibility of retreat from part of the program of quantitative easing brought massive panic attack to the market during the day. Because of that the gold market dropped and US dollar became more powerful.
 The area higher than 1,400$ is very important for traders. We think that the ability of the market to break the level of 1400 and what's more important stay higher than that area will become a signal of the possibility to expect stronger gold market. The area between 1,350$ and 1,400$, is exposed to consolidation which allows several traders to open short-term deals. In fact many "talking heads" on TV tell us that investors left the gold market and left it to die. Many people left the market and nobody cares about it, because this pessimism often could be seen during many years. Currently the markets have 2 speeds, one concentrates on long-term tendency and another one on one-two previous weeks. We are making a decision based on last movements that occurred not long ago.
The level of 1,350$ begins to look as a quite good support, as it can be seen on the graph, which shows a double top, formed around this area. The ability to break down the level of 1,400$ would support significantly our opinion on gold market rehabilitation, but it is better to wait until the market can stay higher than that level for several sessions. The market must feel "strong" higher than the level of 1,400$, in order to look convincing.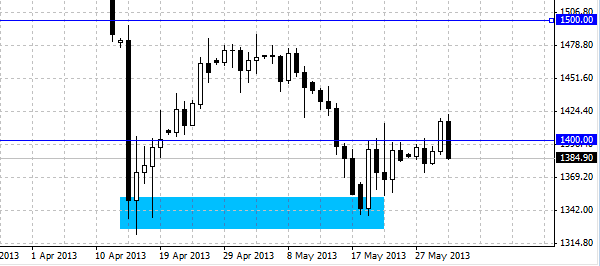 Nevertheless, we think that a lower liquidity of June and obvious risks, connected with the news will make the road more uncomfortable. We think that the market will not have many options for movement, in fact the movement will be within the diapason. We would be surprised to see a strong movement in any direction. However, we are ready to acknowledge that the market is ready to buy long-term, because we expect the central bank, that is weakening the dollar, to continue moving the gold market upwards.
Social button for Joomla