During the previous week in the foreign exchange market the U.S. dollar showed a significant increase, against almost all currencies. The biggest losses were British Pound (GPB/USD) and Japanese Yen (USD/JPY), also showed a decline in the euro (EUR/USD) and Australian dollar (AUD/USD). In the analysis of these currency pairs you can see an interesting situation, almost all of them are located near strong support levels. The three-week dollar strengthening logically suited to the stage of consolidation and correction is most likely the dollar may start exactly from these support levels. We believe that the long term trend of the dollar to rise does not change, but, nevertheless, now the market looks as if he needs a break, if he plans to move on.
The European currency is near significant support at 1.2800 . On Friday, the pair EUR/USD failed to fall below this level. At present, the euro looks very vulnerable to the dollar, but as long as the level of 1.2800 fails decline in the euro will be difficult to roll back the level of 1.2800 could end up increasing the value of 1.2900, where bears with new force could come into play. In the event of a further strengthening of the dollar next goal for EUR/USD 1.2750 level will be - at least, that was made in April 2013.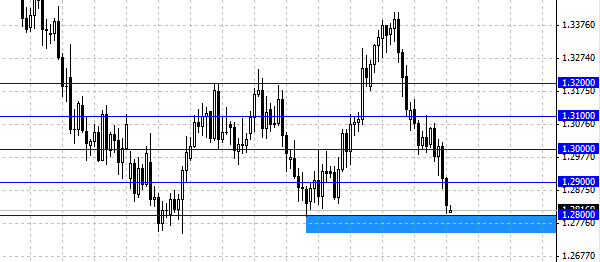 USD/JPY is still far from its recent high of 103.700, but the Japanese yen has enough resistance to stop the rise of the dollar, evidenced quite smooth upward trend in USD/JPY. But here you can see the signal "caution", the first - a pair of close to recent highs, the second - the trend line is too steep an angle, this rate of growth is difficult to keep. So at least we can expect slowdown of the dollar against the Japanese yen. The immediate target of the pair USD/JPY is the level of 103.700, then - 105. From the field level can begin 103.700 correction to the level of 100 - 101.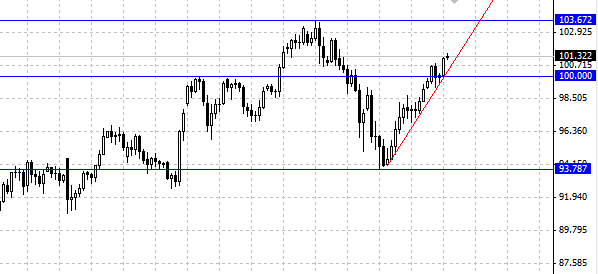 There is a strong level of support and the Australian dollar. The area around 0.90 is significant as psychological and technical level. The situation with the pair AUD/USD more unique than other pairs are the U.S. dollar has long been dominant for nearly two months, the Australian dollar reduced pressure. It certainly makes it more likely the beginning of the correction of the plot for the pair AUD/USD. Levels, which can be rolled back pair is at around 0.93 and 0.95. At the break of 0.90, the purpose of the bears will be the levels 0.87 - 0,85.
Social button for Joomla