The past week has been winning for most currencies against the dollar. The Australian dollar closed at 0.9170 mark, although on Wednesday almost reached 0.9300, the growth of this week was 1.61 %. Weekly result of the euro is not so high (0.60 %), but nevertheless the pair EUR/USD has been the focus of traders largely due to economic data, which was enough.
The currency pair EUR/USD traded kept, the range is between the 1.3000 - 1.3200 continues to dominate the current market situation. If you look at the performance of the greenback, you'll find that over the past week, he basically continued to weaken. But the pair EUR/USD is not so distinct, the reason for this lack of positive factors for the growth of the euro, and even such catalysts as good economic data is not in force to provide the necessary support for the euro. Eurozone indicators remain weak, investors and traders see it, the downtrend in the euro reflects the state of the economy. The European currency close to a tipping point, which is located at the intersection of the descending trend line and the line at the level of 1.3300 . We are looking forward to further developments, but determined to sell the pair EUR/USD. Now even the 1.3200 level seems insurmountable for the euro to sell from this value - it means to get a deal with a lot of potential, but little risk.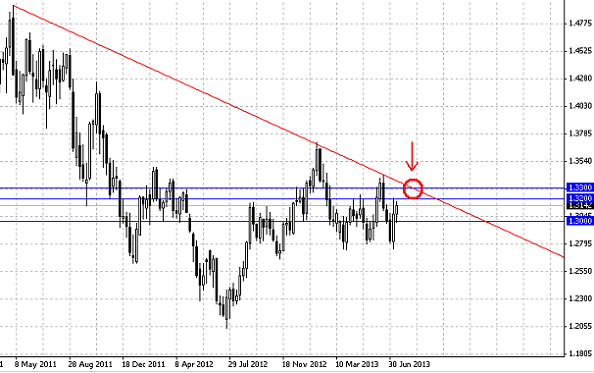 Australian dollar continues to rise, after a low of 0.9000 on the mark. Such behavior from a technical point of view, rather corny and it was predictable. Why buy the Australian dollar is not worth it? The downtrend has been going on for a long time, a temporary pullback as we can see in the graph has happened before, and it lasted the way only a week. Buy the pair AUD/USD can only be if we see a rise above 0.9300 dollar, then to be the level of 0.9500 . At the moment, we can see two scenarios, and it's surprisingly not the weakening of the Australian. Most likely, we will see trade in a channel with boundaries at 0.9300 - 0.9000, further outcome should be a drop in AUD/USD below 0.9000, but not this week. The second option is to correct a couple who have long been brewing, and now can be. the market has already taken the first step to its start. In any case, the level remains an important area near the values of 0.9300, trading around this level will shed light on the Future of the pair AUD/USD.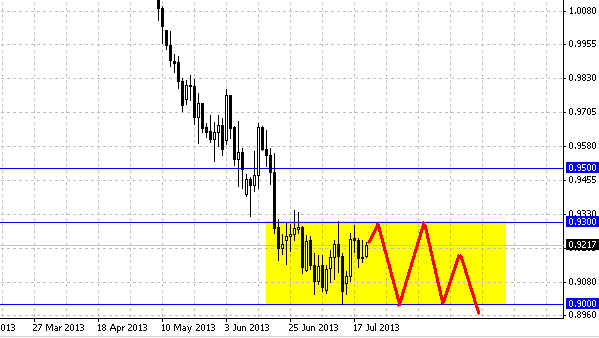 Social button for Joomla