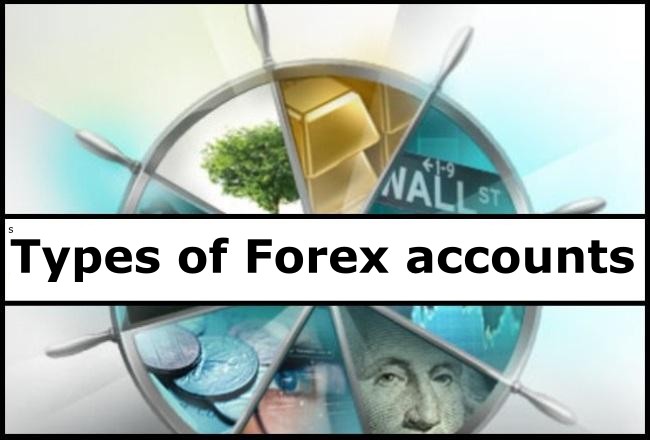 Sooner or later, any person interested in currency speculation faces the problem of choosing the appropriate account. This is not an easy task as it might seem at first glance.
When selecting an appropriate account, you should consider options such as: trading style, preferred timeframe, the amount of funds that a trader can afford to allocate for deposit. Therefore it is necessary to have a general idea of what types of accounts may be found on the Forex market.
In general, the following types of accounts can be distinguished:
demo account, which is what DC means when offering the beginners to try real trading without the risk of losing money;
cent accounts – trading is conducted with real money. The deposit of, for example, $50 would be 5,000 units of the base currency in this case. The price of the point changes accordingly, i.e. the trader can trade more flexibly;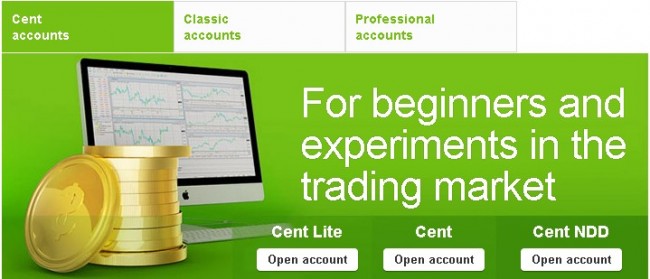 conventional, classic or standard accounts – they are chosen by the traders whose deposit ranges from several hundred to several thousand dollars;
ECN accounts – the perfect choice for those who like scalping and pipsing;
Swap-free account – no charge is taken for the positions rollover;
PAMM accounts (managed and investment).
Forex account types recommended for beginners
In fact, there is no ideal type of account, each of them is good for specific tasks. For example, a demo account allows beginners to get acquainted with trading without risking their own money. Opportunity to open such an account is provided by all DCs without exception.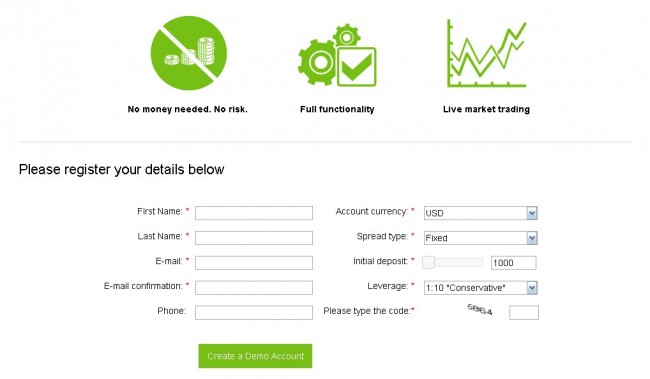 Theoretically, such trading is no different from trading with real money, but here psychology comes to the fore. Quite often, a person shows a great result on a demo account, but fails to achieve the same with real money. The main reason is excessive emotionality.
The main advantage of the cent accounts is flexible money management, it is especially important for traders who have recently started trading and can't afford a large deposit. The price of 1 point, depending on whether 4 or 5 digits are displayed after the decimal point, will be 1 and 0.1 cent respectively. You can use an online calculator to calculate the price of the point.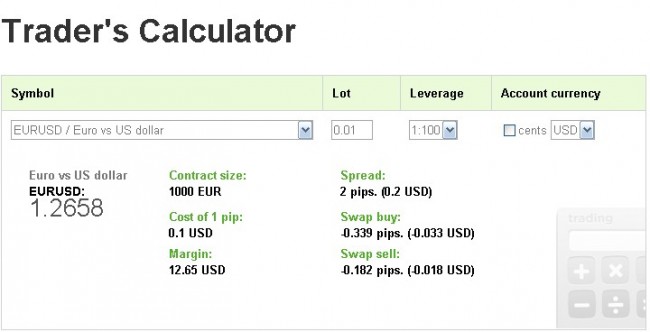 Cent accounts are ideal for testing of new trading strategies and indicators. In some ways, it is even better to start trading on cent account using a small deposit of $50-100. It won't cause significant loss, but the trader will be risking real money, and thus feel the necessary emotions and learn to control them.
Accounts for experienced traders
Standard account (some DC can call it classic) is selected by traders who are confident in their abilities and use calm trading style. Deposit in this case is generally from several hundred to several thousand dollars. Unlike the demo account, there may be a little delay in making deals, but since trading is conducted mostly on the timeframes from h1, it does not affect the result.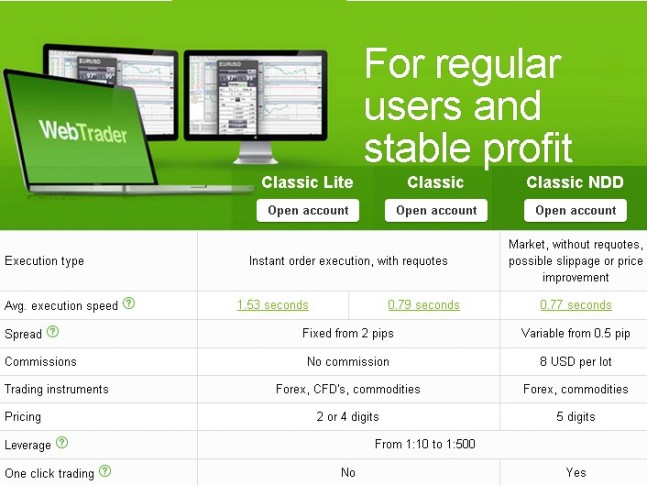 The vast majority of DCs provide a fixed spread for such accounts, as well as the ability to change the leverage. Speed of execution of orders usually depends on the market activity.
The main feature of ECN accounts can be called a floating spread (it can even be 0), and a fee for each transaction. The price at which the transaction is made is defined not by the broker, but on the basis of matching offers from the seller and buyer interest. Such accounts are recommended for a large number of transactions within the day. Also, these types of Forex accounts can be recommended for trading with scalping and pipsing expert advisors.
Swap-free account will be useful for those who like trading on the daily timeframe. Their main advantage is that the swap is not charged for the position rollover to the next day. For intraday trading it does not matter.
How to work on PAMM accounts
These accounts can be used in two cases:
the trader has money, but they either don't have the ability to trade on a regular basis, or are just unconfident in their abilities. In this case, it makes sense to pay attention to the investment PAMM accounts, because in this case a professional will work with money, but you will have to pay a certain percentage of the profits;
if the person is confident in their abilities, they can create a managed PAMM account and attract new investors. As a result, both sides remain in the win – the trader works with a lot of capital, receiving higher profits, while investors receive dividends making no effort.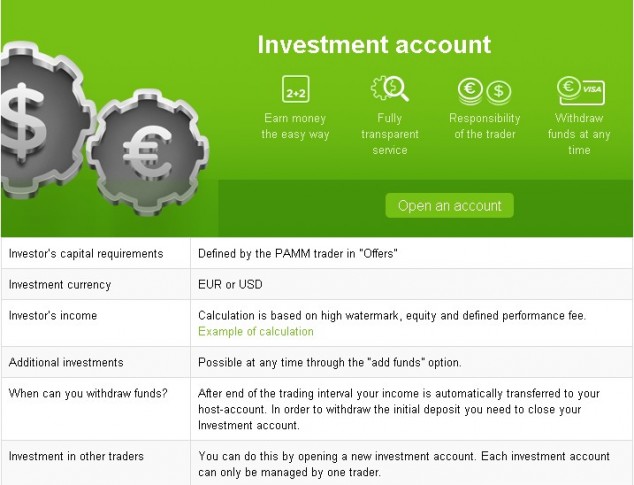 However, the main difficulty is to choose a really good PAMM account manager. This is why the sites of many popular DCs have a rating of popular PAMM accounts. When choosing between them, you should pay attention not only to profit (although this is also important). You should carefully examine the trading style and drowdawns, and it is desirable that the PAMM account was not there for 1-2 weeks, but at least for a few months.
General guidelines on choosing the appropriate account type
Different types of Forex accounts can confound the novice trader, and the choice may not always be successful. In order not to make a mistake, you need to follow these guidelines:
demo, or better a cent account, will be the best for a novice trader. Anyone can find a few dollars to open a cent account, but the cent account is preferable in terms of development of the discipline;
classic accounts will suit confident traders, although people who prefer scalping or pipsing would better opt for ECN account;
PAMM investing is ideal for low-cost investment. The principle of operation is almost the same as that in the bank, but with the right choice of the manager, the profit is disproportionately higher. Risk, of course, is also much higher than when opening a bank account.
The trader can also run into accounts that DCs position as the professional's choice, with the PRO prefix. In fact, these types of Forex accounts slightly differ from the classic. To open a PRO account, you will need a large deposit, and DC can guarantee the minimal execution time and other minor benefits. But this doesn't have a strong influence on trading.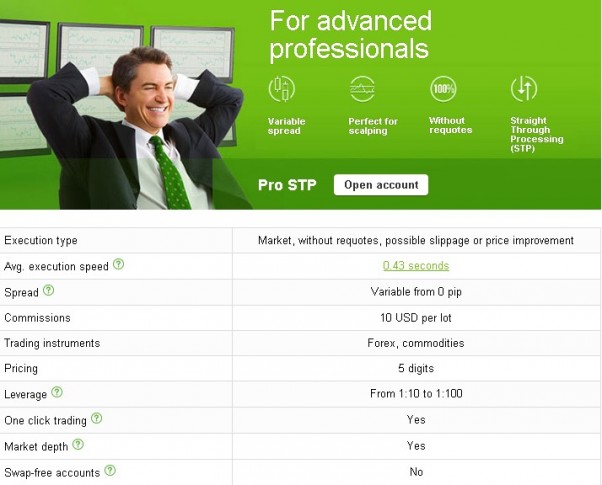 There is also a kind of subspecies of the usual types of accounts, where the DC introduces various changes (sometimes not quite logical). For example, Alpari offers to open ECN New account with no commission, but the spread is increased, i.e. there is no sense in opening such an account. In any case, it is recommended to carefully study the terms of trading on the account before opening it.
Social button for Joomla