Candlestick analysis – is an effective and interesting method of trading on Forex market. One will need to learn to analyze the combination of Japanese candlesticks in order to be able to build candlestick graphs. The shapes of candlestick analysis can be different, there is no need to learn all of them, you will need to know only the most helpful ones.
If you can build bar graphics then it will not be difficult for you to study forex candlestick analysis. You will need to work during the day because this method works best on daily graphs. Psychologically forex candlestick analysis leans on the closing and opening price of one day. Sometimes this dependence can change on the closing price of order of one day and opening price of the following day.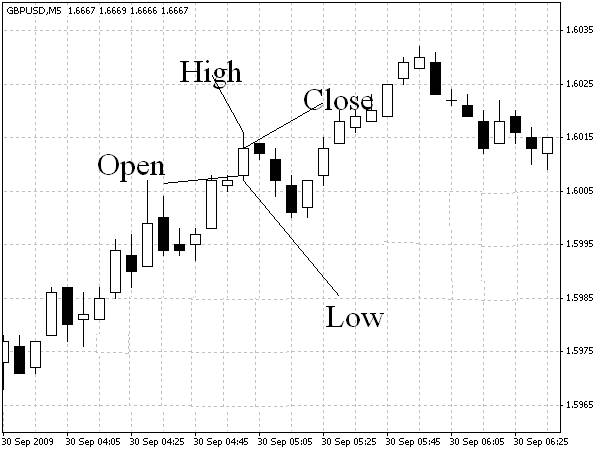 Forex candlestick analysis is different from the bar one only by its forms. In the interval between the opening price and order closing there is a figure in the shape of white or black rectangle which is called "candlestick body". There are lines that are going down and up from the body – "shadows" that show the highest and lowest price in the time span. Depending on how far the orders of opening and closing are situated from each other, the color of the candlestick will change. The white color – if the closing price is higher than the price of opening, the black color otherwise.
Forex candlestick analysis
Candlestick analysis should be conducted in the following manner. You take certain candles and analyze their combination, you search for typical models between them and try to predict their future actions. It can be done manually or you can use the indicator of candlestick analysis.
It is essential to know that the appearance of deployment model will be a symbol of the end of the old trend. Flat or the trend change should be expected soon. If one learns to use Japanese candlestick analysis then it will be easier to predict such movements of the market with easiness. The candlestick analysis can be a roadway with some specific signs.
Undoubtedly the appearance of signs produced by Forex candlestick analysis can't guarantee trend deployment. That is why it is advisable to open new positions only when the tendency is change is approved by more large-scale events. One has to close the position, based on Japanese candlesticks, if you do not want to lose a lot of money.
Social button for Joomla