If you are interested in what Forex swap is, then this article will help not only the beginner to understand this term but it will aid a professional to find out more new and interesting things. In fact currency swap stands for two different currency transactions, purchase and sale with different dates of valuation of currencies, and one of the transactions has to be forex swap date.
Currency swap is one of the most popular tools on forex currency exchange market. Portion of the swap deals is higher than the rotation of "outright" forwards. Despite the fact that forex swap in its shape reminds conversion deals, they belong to money-market transactions.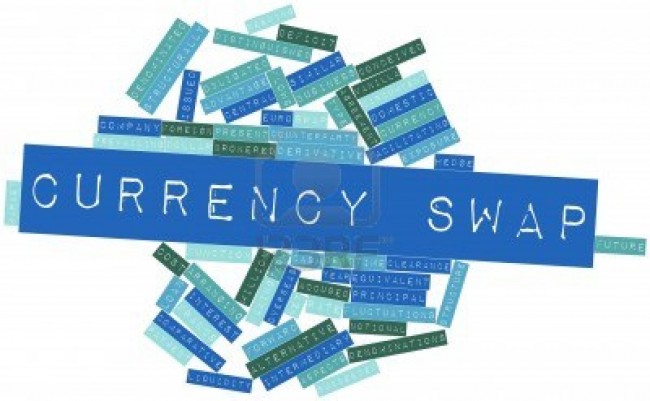 Forex swap is often made between the same broker companies and banks. Such swap type in economic world is called "clean". In case big companies are accepted into the deals and there is a cooperation among them, then such trading transactions are called structured. However, such type of trading is not inherent in forex market and it is hard to come by.
For more clearness let's look at an elementary example. A bank buys 1 000 000 $ against yen on the spot and sells these dollars under the condition of 2 monthly forwards. In this case the transaction will be called 2- month swap US dollars to yen.
Forex swap.
Currency swap can be divided into three different types, depending on during which timeframe it will be held. One can single out: one day, standard and forward. The last ones are peculiar because they usually have deals that are made on condition that the date of valuation of currencies is later than the swap and reversed deal has to be of a later forward. Standard deals date is close to the spot and far deal is close to the forward. In this case spot is the second workday.
Forex swap is an integrated deal with one player (bank or broker). Since the bank is always buying and selling the same amount of currency, one can stop expecting a clear currency risk. That is why a trader must pay close attention to similar deals, if he wants to get his currency-percent swap.
Forward traders can use swaps mainly for the following purposes: speculation, cash management, service, arbitrage transactions. All of these goals are determined mainly by trader's possibilities and the size of his deposit.
Social button for Joomla