Forex graphs are the essential part of any trading strategy, because they allow watching the changes in the price of specific currencies. The graphs of forex quotations provide traders with information on price fluctuations during a long period (up to two months) and allow them predict future events. Forex graphs are fundamental for any prediction on currency market.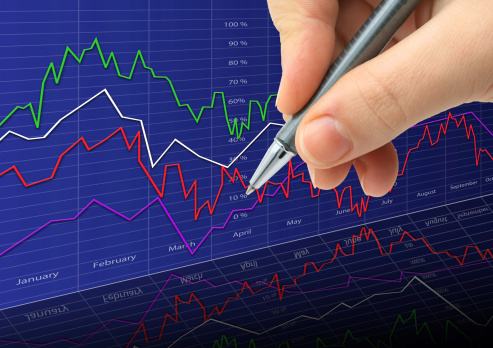 Forex online graphs are the great opportunity for a trader to obtain latest news on the situation on the market. With their help players can make successful deals because in that case they rely on specific data and not on their proper intuition. Forex graph analysis allows creating a correct strategy the usage of which can bring great profits in the future. The application of this information which is provided by Forex graphs in real time in trading allows approaching reasonably to every deal, relying on objective reasons for its opening or closure. Currently players can use different graphs of Forex currency which are based on different currencies and used indicators.
Forex online graphs: the main types
Currently there are many Forex graphs being created, but the most popular among them are:
Teak – allows determining quickly the best moment for entering the market. Such graph differs with little scale, because single quotations lay in its base.
Linear – the most comfortable graph for trading with patterns (figures of technical analysis). While building such graph the price of closure is used (rarely the opening), maximum and minimum price for a specific period of time. The defect of linear graph is that it does not allow the traders to see price ruptures that were between trading periods. It means that the usage of additional indicators for obtaining the objective information is required.
Bar graph – is the most popular among traders due to its easiness and reliability of data obtained. It reflects the changes in prices at a definite period of time, showing the price of opening and closing, as well as minimal and maximal indicator that was achieved during that timeframe.
Many traders use forex strategies on daily graphs to make deals, because they allow getting fast and great profits. For example by using forex euro graphs a player can always watch the changes in quotations of currency pairs with this currency, which means that provided the necessary conditions he can make a profitable deal.
Social button for Joomla