If you plan to earn money on Forex, you have to learn basic principles. The leverage is exactly one of those basic principles. So what is leverage? There is a strict definition of this term which states that leverage is the ratio of trading currency volume to overall funds that belong to the trader. Trader on Forex market is a dealer that carries out speculative trading.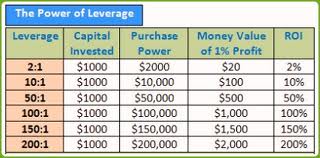 To understand more easily how the leverage functions, let's break up a simple example. You will need to face a ratio of 1:100. Which means that you will have 1000 rubles on your account, but you can make deals with 100 000 rubles. One should remember that when opening a deal he takes a margin (a deposit sum). To find out how to calculate the leverage let's take 1000 rubles and leverage of 1:100. As a result it will be possible to open lots with the size of 0,02 and the price for one point will be equal to 5,65 rubles.
That is why Forex leverage is connected with the volume of deals made by you. A trader will have to choose a leverage that best suits his work and he will need to decide what overhead meaning he will determine for it. Often even leverage that has been chose correctly can guarantee profits or full loss of the deposit.
Which leverage to choose for successful trading?
Forex leverage can be different. A good broker can have leverage of 1:20 up to 1:500. Some of the company brokers offer options of 1:1000 but as a rule it is the worst option for a trader because the volume of marginal deposit for that leverage can be enormous. If you ask what leverage is the best? We will answer immediately that 1:100 option is the most optimal because the risks are minimal and the profits are balanced.
Forex leverage should be chosen not only by experienced traders but by beginners as well. Because the maximal element of risk should not be exceeded by 1-3 %. The higher the leverage the more the risks are. If you haven't decided yet which leverage to choose do not make a decision based on your deposit and laws of money management mentioned above.
We hope that after you have read this article you realize how to choose leverage and now you will be able to distribute your funds correctly. One should remember at all times that the profitability of your trading will depend fully on which brokerage you have chosen.
Social button for Joomla